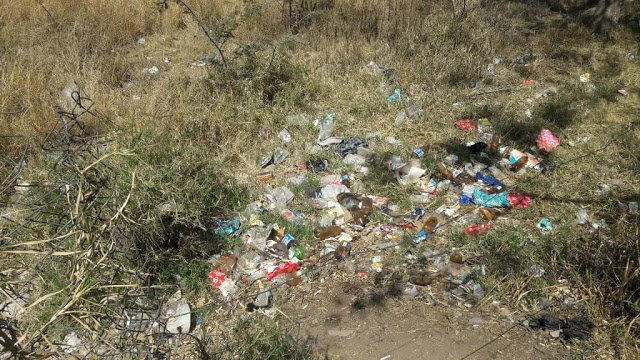 CHIVHU –
The
shortage of water in Chivhu has led to an increase in open defecation especially
at the area adjacent to Chivhu Food Court, with business owners now requesting
council to quickly find a solution.
The
local business community has raised alarm as the open space has become a health
hazard affecting such businesses as furniture maker Mafika Investments, Chivhu
Food Court and vendors at Masvingo bus terminus.
Travellers
from across the country relieve themselves in the small bushy area especially
during the night since toilets at the food court are often closed due to
non-availability of water.
Since
the beginning of load-shedding, pumping capacity at the water works declined and
businesses like Chicken Inn are now closing their toilets during the night.
"My business is suffering because we are
closest to the area. Cross-border travellers and others have turned this place
into a big stink. During the night, Chicken Inn closes its toilets due to water
shortages and people line up here to relieve themselves," said Mafika
Investments director, Ronald Mafika.
He
urged council to quickly find solutions, saying the open space was also
becoming an illegal dumpsite.
Mafika
Investments has already written to council for permission to develop the area
into a recreational park as a way of bringing value to the piece of land and
reverse its deterioration into a faeces-strewn illegal dumpsite.
"I
write this letter requesting for your response to my letter dated 18/09/2018
about developing the space adjacent to Chicken Inn into a recreational park.
Time is not on our side as people are using the area as a bush toilet …. People
are littering and defecating on the open space," reads part of the letter.
Another
letter, dated August 30, 2019, requesting permission to build ablution
facilities at the area had not been responded to by the time of writing.
The
letter reads: I write this letter to ask permission to build some toilet cabins
with septic tanks. I am prepared to do that even in partnership with council
……This is worsened by passengers who disembark from buses with the intention of
relieving themselves at Chicken Inn only to discover that the toilets are
closed due to the non-flow of water as a result of erratic electricity supplies.
No
comment could be obtained from Chikomba Rural District Council (RDC) council by
the time of going to print.