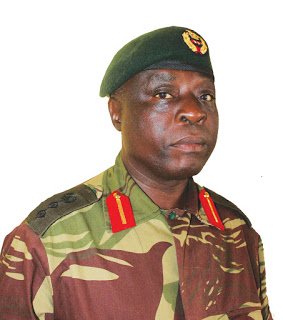 DEPUTY COMMANDER 4 INFANTRY BRIGADE ,COLONEL HEBERT SIPANERA


Sgt Denford Chimbwinya
Colonel Herbert Sipanera has been appointed the new Deputy Commander for 4 Infantry Brigade replacing Colonel Blessing Maraire who has been transferred to Army Headquarters in Harare.
Prior to his new appointment he was the Staff Officer Grade One (SO1) Land Systems at ZDF Headquarters, Defence Economics Development Department (DEDD).
Born on March 02, 1961 in Chegutu then Hartley, Colonel Sipanera did his primary education at Pfupajena Primary School in Chegutu and on completion of his grade seven, he enrolled for high school education at St Augustine's Mission in Penhalonga near Mutare.
He later answered the call to liberate his country, since it was during the peak of the liberation struggle. He crossed into Mozambique to join the liberation struggle in1977. His pseudo name was Thomas Gidi Tsvairai Mabhunu.
He was trained at Tembwe Training Camp and on completion he was deployed in 1979 in Tete Province, Nehanda Sector where he was involved in a lot of contacts against the Rhodesian Army till ceasefire.
On ceasefire, he was selected to undergo further training in Yugoslavia, where he trained at a Military Training Centre in Sagreb up to 1981. He came back the same year and assembled with fellow comrades at the Zengeza 4 Assembly Point where he was attested in the Zimbabwe National Army (ZNA) on August 01, 1981 as a Private.
The Deputy Commander rose through the ranks to become colonel in 2018 and held several appointments which includes Commanding Officer 13 Reserve Force Battalion, Directing Staff at Zimbabwe Staff College and Staff Officer Grade One (SO1) Land Systems at ZDF HQ Defence Economic Development Department (DEDD) and currently 4 Infantry Brigade Deputy Commander.
During his entire service he was awarded several medals which include Independence Medal, Liberation Medal, 10 year Service Medal, 15 Year Long and Exemplary Medal, Mozambique Campaign Medal, United Nations Mission in Sudan Service Medal, OSL Campaign Medal and the Officer of Zimbabwe Order of Merit. He is married and has three children and likes to watch and play soccer.
Meanwhile, Major Timothy Ponde is now the new Brigade Major, he replaces Major Espedito Machingauta who has been transferred to the Zimbabwe Staff College. Prior to his appointment, Major Ponde was General Staff Officer Grade Two (GSO2) at Headquarters Bulawayo District in Bulawayo.
The Brigade Sergeant Major (BSM), Warrant Officer Class One Joel Mugore has been transferred to Headquarters 3 Infantry Brigade with the same appointment and has since been replaced by Warrant Officer Class One (WO1) Thabani Moyo, who was the Group Sergeant Major at 41 Combat Group.