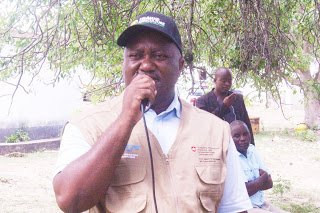 Anymore
Magawa
The Minister of State
for Masvingo Provincial Affairs, Ezra Ruvai Chadzamira has spoken against
corruption saying the vice was a cancer gnawing away at the national vision of
development and clean governance.
Addressing people at
the stakeholder consultative meeting on the national anti-corruption strategy held
last week, Chadzamira said people must be guided by integrity and honesty in
all their dealings.
"I urge all corruption
perpetrators to stop their behavior because corruption is an enemy to national
development and the attainment of our national vision of being the upper-middle
income economy by 2030.
"Ending corruption
begins with us and we are obliged to keep and sustain the moral campus of our
life which is immune to the cancer of corruption. We must uphold the founding
principle of Africa which are embedded in the values of Ubuntu whereby an
individual is an expression of bigger corrupt-free society," said Chadzamira.
He also said traditional
leaders like chiefs must play a more influential role in fighting corruption as
many people looked up to them for guidance.
"Our solution against
corruption should be hinged on traditional ways provided by the traditional
chiefs who are custodians of our values, customs and culture. They can play a
more pronounced role in preserving, promoting and safeguarding transparency,
accountability and professional ethics as a founding system of public sector
management provided in the Constitution.
"Their duty is to
denounce, expose and report name and shame all forms of corruption whenever and
wherever they happen," Chadzamira said.
Speaking at the same
event, Mabel Takaripa Hungwe, who is a commissioner with the Zimbabwe Anti-Corruption
Commission (Zacc), encouraged stakeholders to accommodate diversity of ideas so
as to come up with an effective national strategy.
She also encouraged all
citizens to stay away from any corruption related behavior and to report and
expose corruption issues that might emanate from their areas.
"All citizens must work
to curb corruption which tends to further individual interests at the expense
of many people," Hungwe said.
Many participants,
however, said the anti-corruption drive in the country was targeting only small
fish while the wealthy and well-connected political elite remained immune.
Resolutions made at the
meeting included protection of whistle blowers, strong policy or legislation to
deal with anyone found engaging in corrupt dealings, the need for Zacc to
collaborate with other institutions and the need to have forensic laboratories
for investigations.