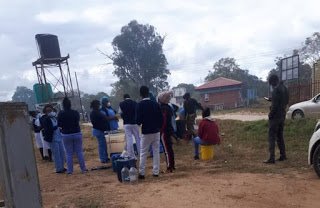 Water Crisis: Nurses at Masvingo Provincial Hospital queuing for water
Clayton Shereni
MASVINGO –
On April 07, the World Health Day was celebrated but the events that unfolded
since March last year overshadowed the celebrations as Covid-19 continues to
wreak havoc in the country.
The
state of the country's healthcare system is in clear contrast with this year's
theme, 'building a fairer, healthier world'.
Hospitals
and clinics are in a deplorable state while health workers have locked horns
with government over poor working conditions and remuneration. This has seen
basic health services being hard to access for much of the population.
Water
supply at the province's referral health centre Masvingo Provincial Hospital, has
been erratic and relatives have to bring water for patients while theatre
operations have been put on hold.
To
cover the gap, City Council, supplies water using bowsers to supplement the
borehole water system but this has not been sustainable.
The
local authority last year demoted Water Works Supritentant Charles Chapanduka,
for gross negligence and his dismissal was also followed by the suspension of
Town Engineer Tawanda Gozo almost a year later.
Generally,
local authorities in the country offer nothing but poor services to residents
and with Covid-19 pandemic, this has worsened the risk to people's health.
Councils
have failed to provide water frequently while refuse collection has become a very
rare privilege for much of urban areas.
In
what seems to be defensive play, local authorities blame the Covid-19 lockdown and
low revenue for their failure to live up to their responsibilities.
The MDC Alliance councillor recalls
Although
the recent purge of councillors by the Douglas Mwonzora-led MDC-T left some
local authorities crippled, this cannot explain all the service delivery
failures by urban local authorities.
In
Harare and Chitungwiza, residents have resorted to drilling boreholes at almost
every house in areas like Epworth, Zengeza, Tafara and Mabvuku where residents
have gone for years without a single drop of the precious liquid on their taps.
For
Masvingo, the situation has been getting worse in recent months as the local
authority is failing to meet the demands of water and refuse collection in the
city.
Former
Councillor for Ward 4 in Masvingo Urban, Godfrey Kurauone who was recalled by
the Mwonzora faction of the MDC parties, told TellZim News that the problems in
council were institutional and that personal grudges often took precedence over
service delivery.
"The
poor service delivery being experienced in Masvingo is not about Gozo whom they
suspended or any other individual. The problem is institutional and has nothing
to do with any individual. We have a serious problem of some councillors who
are now bringing personal fights into council. Right now we have two groups of
councillors, some are inexperienced but are dominating and the other group is
of experienced and passive Cllrs," said Kurauone.
He
urged the city fathers to accept that they are at fault and to look for
resources which will be used to fund the operations of council before the
situation gets out of hand.
"It
is time for the local authority to accept that they do not have the resources
to improve service delivery. You cannot expect the Engineer to implement the
second phase of the water augmentation project or rehabilitation of the roads.
Council must find other means to raise the needed resources before it is too
late and make them available to the workers for the execution of duties," said
Kura.
Some
parts of Mucheke have gone for more than a month without running water and its
high density status has left many families facing a major risk of water borne
diseases.
Covid-19 ignored in scramble for
scarce water
Sanity
has been a thing of the past in high density suburbs and the risk of
contracting Covid-19 has been ignored as people jostle for water at boreholes,
community taps and water bowsers daily.
Although
access to water is a basic human right, for Masvingo residents that right is
not practicable as they spend hours in queues even during the night.
Some
have fought for water at boreholes while some have been reportedly assaulted
and robbed on their way to and from boreholes.
The
larger part of Victoria Ranch, which is under the grudging jurisdiction of
Masvingo Rural District Council (RDC) has largely been receiving no water from
Masvingo RDC and Masvingo City Council.
Land
barons have been playing hide and seek when it comes to sanity in the area
where they have failed to install sewerage and water systems.
This
worsens the area's vulnerability to coronavirus as well as water –borne
diseases like cholera and typhoid.
Open defecation and unprotected
water sources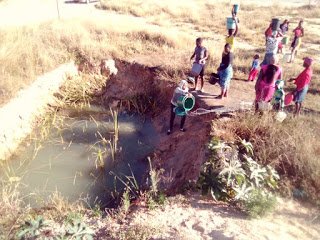 Residents in Rujeko fetching water from an unprotected source
The
splashy suburb of Rhodene has also not been spared as taps have gone dry for
more than three weeks.
Sanity
has been shunned, with footpaths emerging are all over bushy areas which have
become the primary ablution facilities.
Open
defection has become a common feature on alleys in the Central Business
District (CBD) since informal traders can no longer use public toilets.
Council
is reportedly pumping at a 50 percent capacity and has resolved to ration water
and has categorised areas into zones that received water at specified moments,
although this too has not been adhered to.
Some
residents of Rujeko fetch water in Mucheke River which is heavily polluted
largely by sewage from council's leaky sewerage.
In
year 2012, the city council was fined $8 000 by Environmental Management Agency
(EMA) for its wanton pollution of the river, whose waters are a big stink.
The
council's ramshackle sewerage discharges raw sewage into the water body which
feeds into Lake Mutirikwi, the city's main source of water.
When
asked to give his comments regarding the water crisis, Masvingo Mayor Collen Maboke
said council was working tirelessly to find lasting solutions.
"Our
state of service delivery is not good these days and the most affected area is
water supply. We are pumping at 50 percent after a transformer which fed power
to the Bushmead water station got burnt. Right now we are working round the
clock to restore some normalcy. Plans are also there for a long term solution
to address the water shortages and we will also sink more boreholes.
"We
are also engaging ZESA to see how we can restore adequate power supply. As a
local authority, we are constrained financially but we are trying to supplement
our supply with bowsers and boreholes which we sank in partnership with
Christian Care," said Maboke.
Before
the rainy season, council was attributing water shortages to low levels in Lake
Mutirikwi and old infrastructure.
After
the heavy rains of the previous season which saw the lake almost getting filled
up to the brim, city fathers are now attributing the shortages to something
else.
However,
inside sources claim that the water crisis is not just a result of infrastructure
breakdown, but factionalism and sabotage at the town house.
There
are claims that some elements are sympathizing with Gozo and are sabotaging
Acting Town Clerk Edward Mukaratirwa to end the water crisis.
Mukaratirwa
was Gozo's deputy in the engineering department, but rose to become Gozo's boss
at the local authority after the retirement of Adolf Gusha who was very
sympathetic to Gozo.
Masvingo
United Residents and Ratepayers Alliance (Murra) Information Officer Godfrey
Mtimba implored city fathers to find common ground and solve the crisis which
is being currently experienced in the city.
"We
are seriously concerned with the issue of factionalism which is reportedly
happening at the town house, where we hear they are sabotaging each other and
this is affecting the smooth provision of services.
"Council
officials should stop politicizing council work and be professional because it
is residents who suffer from all that political bickering. They should put
their house in order and work in unison. They should work as a team and provide
quality service to the residents," said Mtimba.
On
council's capacity to provide optimum service to help residents survive a
possible third wave of coronavirus infections, Mtimba said it might be a
mammoth task considering the state of affairs at the council.
"City
council is not able to help residents contain any disease outbreak. The state
of affairs at the moment is in bad shape and currently people are struggling to
get water. If there is an outbreak, council will find it hard to contain the
spread of water-borne diseases and it will be catastrophic," said Mtimba.
With
some health experts warning of an imminent third wave of Covid-19, the city is
sitting on a health time bomb if the current water crisis is not resolved on
time.
Masvingo
has effected a 500 percent increase in rates but service continues to decrease
although little is being done on the part of council to improve service
delivery.
A
transformer which feeds power to the Bushmead Water Works station recently got
damaged beyond repair and council is reportedly in the process of negotiating
with ZESA to speed up the process of installing a new one.
However,
it still remains a mystery whether the local authority will improve their
services to the ratepayers or it is just wishful thinking on the part of the
residents.