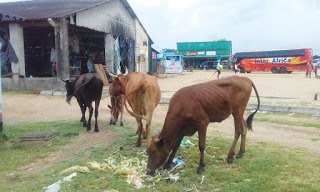 Stray cattle oftenly roam freely at Jerera growth point

…vet dept to shoot stray pigs
Brighton Chiseva
Zaka Rural District Council (RDC) has resolved to build some cattle pens to keep stray livestock from Jerera growth point, with owners risking steep fines and seizure of the animals.
In a full council meeting held recently, Zaka RDC chairperson Cornelius Mapuranga asked the veterinary department to shoot stray animals like pigs that often roam freely in Jerera and in the villages.
"We are tired of talking about these stray animals. We call upon the vet department to help us by shooting the pigs because they are causing havoc on the streets and in the villages day and night," said Mapuranga.
Representatives of the vet department, however, said council needed to first identify owners of the animals, give them tickets and confiscate the animals if the owners continue letting their animals roam free.
District Administrator (DA) Ndeya Nyede said the issue of wandering pigs and cattle had been discussed on several instances, with village heads and chiefs being encouraged to help end the problem.
"We talked about this a long time ago. Pigs must not roam around. We can't continue having a situation whereby pigs and cattle turn rubbish bins upside down at market places," said Nyede
Ward 19 councillor Peter Imbayarwo said those who did not take good care of their livestock could be easily identified.
"People who let their animals stray into Jerera are known and we can identify them so that they can be punished," Imbayarwo said.
The planning committee said the place for the cattle pen had already been identified and construction work will begin soon.