. Masvingo executive wants Mwonzora, Chiondegwa out
. Two executive members suspended
Movement for Democratic Change led by Morgan Tsvangirai (MDC-T) is on fire and the Masvingo provincial executive has come out guns blazing as it pushes for the ouster of the party's secretary general Douglas Mwonzora and national executive member Bernard Chiondegwa.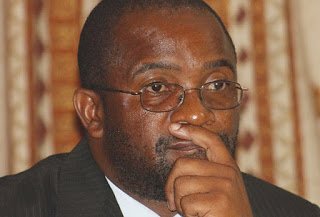 Douglas Mwonzora
Mwonzora and Chiondegwa, who is the former Chivi North party national assembly candidate, are said to be already under presidential investigation for being guests of honour at a councillor's victory celebrations in Bikita where they allegedly wined and dined with People First members, without the knowledge and approval of the Masvingo provincial executive.
MDC-T Masvingo provincial chairperson James Gumbi confirmed the resolution to suspend Bikita East chairperson Sengurudzai Mangezi and Chiredzi North chairpersonJosphat Rukatya and that Mwonzora and Chiondegwa be put under presidential investigation.
"Yes we had a meeting and we made resolutions regarding the members in question but I cannot disclose any details. Talk to the provincial secretary for Information Dr Tichinani Mavetera, I am sure he will be in a position to give you all the details," said Gumbi.
Dr Mavetera however, could not be reached for comment as his mobile was going unanswered up to the time of going to the Press.
When contacted for comment, MDC-T national spokesperson Obert Gutu said he was not aware of the development but was quick to mention that at no level can the province deliberate on issues that involve national members like Mwonzora and Chiondegwa.
"MDC-T is a democratic party and we have disciplinary channels which are followed whenever a member breaches our constitution. I am not aware of the resolutions by the Masvingo executive but the province has no power whatsoever to discipline national members or members of the standing committee. Masvingo provincial executive can only preside over issues that involve the provincial members. I am sure those who think they have the powers to push for the ouster of national members are daydreaming – they should continue dreaming but that will never happen," said Gutu.
TellZim News
is reliably informed that Masvingo provincial executive has warned all its members to dissociate themselves from Chiondegwa or they risk being suspended from the party.
Masvingo provincial executive has been linked to a faction aligned to Nelson Chamisa and it is alleged that they are trying to use each and every opportunity they get to oust Mwonzora. The province had endorsed Chamisa to be the party's secretary-general before the MDC-T congress last year. Chamisa however, lost the election to Mwonzora.



—
Golden Maunganidze
Media Trainer & Director
Tell Zimbabwe Trust
Tel : 263 773 280 487
Website :
www.tellzim.com
He who said it can not be done must not disturb the one doing it!