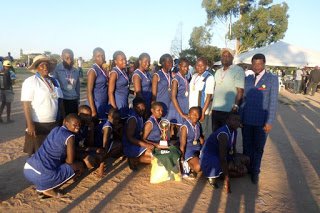 Mpandawana High School netball team
MPANDAWANA –
Gutu Rural District Council (RDC) last week hosted a sports tournament for primary and secondary schools to the tune of US$10 000.
The football and netball sporting event, held at Hwiru Primary School, was open to all schools administered by the RDC.
It was the first tournament sponsored by the council under the Social Services and Poverty Eradication Cluster of the ZimAsset economic blueprint.
Speaking at the event, Gutu RDC chairperson Nicholas Zambara said the tournament came after the observation that other responsible authorities running mission schools have always sponsored sporting galas for their own institutions.
"Our schools are totally outperformed by mission schools and our children had never been exposed to any winning situation and this disadvantaged them. We therefore decided to organise this event as a confidence-building measure.
"The tournament is council's own way of ploughing back the 10 percent responsible authority levies that schools pay and we hope this tournament will be an annual event," said Zambara.
Gutu District Schools Inspector (DSI) James Mahofa praised council for the initiative which he said will help to make council-run schools more competitive on the sporting scene.
"As Gutu, we feel privileged to have this tournament because other districts do not have it. I urge coaches, school heads and children to keep on working hard as this is just the beginning of more things to come," said Mahofa.
Mushaviri Primary was best in netball and they walked away with gold medals, a netball kit and jerseys while Mpandawana High outcompeted everybody else in netball to earn for themselves gold medals and a netball kit.
Zimbizi Primary were best in soccer, earning for themselves gold medals and a kit while Munyikwa High came first in the seniors' football category.sports.