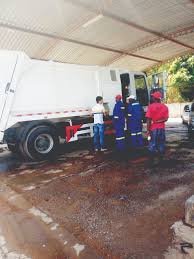 MPANDAWANA –
Gutu
Rural District Council (RDC) has bought a refuse compactor from Dulys AMC in
Harare, a development which will result in a cleaner environment in the rapidly
expanding town.
The RDC spent $156
000 on the purchase which is expected to help improve service delivery in the
area of refuse collection and management.
Gutu
RDC Chief Executive officer (CEO) Alexander Mutembwa said the vehicle will
improve refuse collection efficiency.
"We are glad that
we have managed to mobilise our own resources towards this asset which will be
put to use as soon as the minister has come to commission it," said Mutembwa.
Gutu
RDC chairperson, Cllr Nicholas Zambara said council had made a wise investment which
will serve the local authority money in the long run.
"The
people we represent in council are the beneficiaries of this substantial
investment. This is the kind of progress we want to see in our council," said
Zambara.
Gutu RDC has been
battling to keep a litter-free environment in the sprawling new town of
Mpandawana, but low levels of rate payments have meant less money than required
to fulfill that critical service delivery mandate.
The
council has been using a tractor to collect refuse in the whole town.