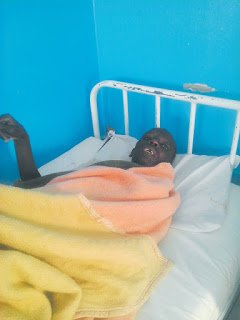 …hubby throws away pills into a pit
Memory Rasa
A Marange apostolic sect man has literally sent his wife to her deathbed after he threw away her medication into a pit in keeping with his religious convictions. The incident happened in Chamba Village, under Chief Chiwara in Gutu last week.
Chandafira Mutereri (65), who cut his wife's genitals with a razor blade in a bid to enlarge the birth canal and sewed her up with twine and a needle after she struggled to give birth at their rural home in Chamba village on 11 January this year, refused to take his wife to hospital despite being directed to do so by Child Care Workers (CCWs). 
Chandafira, who confessed that his church does not allow him to seek medical attention, said that he used the razor blade to help his wife like he always did on all her previous pregnancies. He said he did the same on his late first wife's and saw no problem with that.
Nyevero Dumbu (33), who not only suffered the genital wounds but also burns on her left leg after she fell into a fire on 15 November  last year after an epileptic attack, was then taken to Gutu Mission Hospital on 19 January by her family where she was diagnosed with peuperal psychosis, a mental state  which might have been caused by the infections from both wounds.
Nyevero stayed in hospital for two weeks and was discharged on 4 February after she was seen to be responding well to treatment.  Her senses were recovering and the wounds were healing well as confirmed by the doctor who refused to be named.
"We hope that everything will be back to normal soon if she takes her medicines well as prescribed. Peuperal psychosis is a normal condition which a lot of women undergo after giving birth. Nyevero's is however different since she spent some time before being treated but I believe that she will be well. Her wounds are healing and now she is breastfeeding her child," said the doctor the day she was discharged.
Her family took her home and made sure that she took her tablets and Tanyaradzwa, her child received all the necessary immunisation from Majada Clinic.  Chandafira later requested to take his family back home and they agreed. When the relatives visited her three weeks after she left, they found her sick again, refusing to breastfeed  her child or eat and losing her senses.
"I asked her if she was taking her medication and she told me that Mutereri had thrown them into a hole and had told her that they had sinned against God.
"She also said that Mutereri had taken the baby, together with Nyevero, to the church elders for cleansing since they were regarded as outcasts because they had gone and sought for medical assistance.
"He told us to leave his family alone because we were the ones causing problems and disrupting his faith," said Magaret Dumbu, Nyevero's mother.
The family then returned to check on their daughter in April after neighbours told them nasty stories about the child's health. "We found her worse, she was singing the 'Ebenezer' song in rugs and sitting in ashes. We took our daughter home together with her baby. Mutereri followed and requested his baby back saying we were intefering with God's plans in healing Nyevero hence he needed only his child back and said that my daughter was going to die because of us and that we should keep her.  I was so hurt and angry and we chased him away. We then called him back last week and told him that we were taking her back to hospital. He said we could take our daughter but not his baby. We hired a car and tricked him by asking him to hold the child for a moment up to Ranga Township where we wanted to buy the child milk and he agreed.  That is how he ended up at Gutu Mission Hospital with her. He is now forced to stay there because he does not have transport money," explained Phillip Taruona Dumbu, Nyevero's father.
The family is worried that their daughter is going to die and there is nothing they can do about it because Mutereri has already corrupted their daughter's mind and caused permanent damage both  physically and psychologically on her.
"Mutereri does not care if our daughter dies.  He is used to that. His first wife died in the same manner in 2003. She was our neighbour  here in Chamba Village and we all knew her. She was our brother's neighbor. After she had complications giving birth, Chandafira together with his church mates used a knife to cut what they called 'ruhona' which they said would kill the baby. She did not stop bleeding until she died," said one of the family members.news
—
Tel :         +263 39 262 401 
He who said it can not be done must not disturb the one doing it!