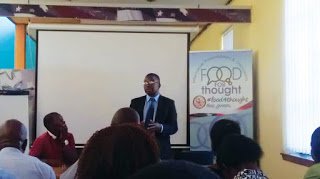 Gweru Urban MP Brian Dube addresses councillors, members of civic society organisations and residents

Tinaani Nyabereka /
Siyabonga Sayi
City of Gweru City is on an all-war against vendors whom its blames for the spreading typhoid epidemic which had by Tuesdays killed eight people since the outbreak was declared on August 06.
Town clerk Elizabeth Gwatipedza addressed vendors in the mayor's parlour where she warned that council would use force if vendors failed to leave the streets by Monday.
"In light of the outbreak, measures have to be taken to clear the streets. Vendors are to go to designated selling places. We find it befitting to reduce litter and dirt in our city and stop the selling of food by unlicensed people so as to curb the spread of typhoid," said Gwatipedza.
He words were followed by running battles on the streets on Tuesday, with joint Zimbabwe Republic Police (ZRP) and municipal police patrols being attacked by angry vendors in town.
Nyaradzo Matindike a vendor who does her business on the pavements said the designated places were worse because they did not have properly functioning toilets.
"Going there will not curb typhoid. It will put us out of business and at even a greater risk because those places do not have proper toilets and running water. No person will come and buy vegetables in those areas," she said.
Newly-elected Member of Parliament for Gweru Urban, Brian Dube, while addressing incoming councillors and civic society organisation on Tuesday, strongly condemned council for what he said was its violence against vendors.
"I would like to make this clear as we start working together. The violence that I witnessed being done against vendors on Monday is uncalled for. Council has to treat vendors with respect, and respect their property.
"If vendors were to stage a demonstration against what was done to them by council, let me tell you councillors, I will be among them raising a placard No one left his rural home and came to the city to be a vendor. They are vendors because industries are closed," said Dube.
On Tuesday, the cumulative total typhoid cases was reported to be at 1 506, with the first case having been reported on July 20.