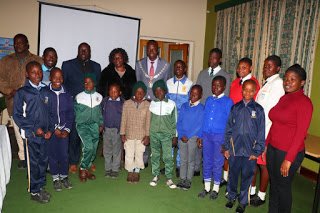 Mayor Josiah Makombe and other officials with some of the beneficiaries
GWERU –
The
Mayor's Christmas Cheer Fund recently reached out to disadvantaged school children
in the city, with a total of 82 pupils having their school fees paid.
Mayor
Josiah Makombe handed over the school fees payment confirmation letters to
heads of such schools as Solace College, Bumburwi Primary, Takunda Primary,
Chikumbiro Primary, CJR Primary, Chaplin High, Senga Secondary, Budiriro
Primary, Thornhill High, Mambo High, Mkoba 3 High among others.
Makombe
pledged to support the school fees needs of the children for as long as he
remained the mayor of Gweru.
"We
have dedicated the fund towards the education of these disadvantaged children.
We worked with schools heads who helped us identify them. A total of 32 primary
and secondary schools were covered and I would like to thank the Gweru
community and all stakeholders who contributed towards the fund," said Makombe
Makombe
thanked Gundu, Dube and Pamacheche Legal Associates for partnering the fund and
supporting a girl who is studying law at Midlands State University (MSU) and a
boy who is at Mkoba Teachers' College.
"Our
partners Gundu, Dube and Pamacheche Legal Associates are sponsoring a girl's
university education. The girl had dropped out of school but she is now at MSU
thanks to the support of those partners. We also have a boy at Mkoba teachers College,"
Makombe said.
The
event was also attended by Gweru District Schools Inspector (DSI) Ella Dakwa who
pledged that government will support the children by providing their stationery
requirements.
"We
will also make our contribution to the welfare of these 82 children by
providing the books they require. We want them to enjoy a hassle-free
educational experience," said Dakwa.
Budiriro
Primary head, Herbert Matimba said the fund had come at a critical time when
many children at his school risked dropping out.
"With
the help of SDC committees and councillors, children who really deserve to
benefit were selected and we are pleased with the process," said Matimba.