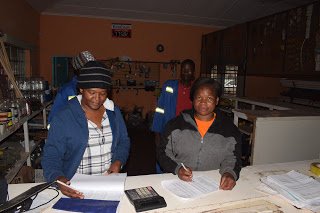 B&S Hardware, Chipinge


Hardware business flourishes in Chipinge
Monday
mornings are often chaotic and noisy in Chipinge as pirate taxis speed between
the central business district (CBD) and residential areas mainly high density
Gaza A, Gaza E and Gaza O and the medium density suburbs to ferry school
children, formal workers and vendors.
Among
the workers and vendors are those who trade in hardware either in shops or at
the council-owned market

located
between the town centre and the medium density suburb near the cross border bus
terminus and also at the carpentry-dominated Chikandiwa complex.
A
survey conducted this week by this publication revealed that Chipinge had more
than 30 vendors who trade in partial or full range hardware goods and 12
hardware shops. This brings a tight competitive scenario between existing hardware
traders and those who plan to enter the hardware sector.
Interestingly,
the traders are getting a fair share of the cake as each traders is capitalising
on sales of varied goods categorised under farming, plumbing, electrical,
tools, hardware and building material.
Vendors
are making a killing especially in small farm ware while registered shops are currently
profiting in sales of building materials.
Big
hardware players in Chipinge include N. Richards, Metro Peach & Brown,
Musiwenyu Hardware, B&S Hardware, Gwenzi Hardware and Farm & City.
In an
interview, Gwenzi Hardware shops director, Garikai Gwenzi said he was
optimistic that business will get better and better.
"Once
one sets up competitive prices, hardware business is an all season business. People
are building every day and building materials, especially cement, are fast
moving," Gwenzi said.
The
business man also owns a construction company as well as Pagomo Primary School
in Chipinge town and Gutika Academy at Checheche.
Chipinge's
hardware shop of the moment, B&S Hardware, which is a subsidiary of Masvingo-headquartered
Wintok Investment, is making some good business in the town.
"We are
well-stocked and our unique customer service is keeping us well in business,"
said B&S branch manager, Irene Mlambo.
In
essence, hardware traders in Chipinge, be they vendors or registered shops,
have a reason to invest more in the farming town.