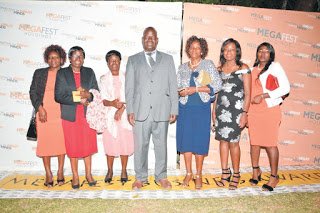 Hillthru Enterprises director Mazarire and some of his staff members at the awards ceremony

TellZim Reporter
"There are no limits to what you can accomplish, except limits you place on your own thinking," said Hillthru Enterprises boss Taguma Benjaman Mazarire after being named the Megafest Best Provincial Businessperson of the Year.
Hillthru Enterprises, a successful microfinance institution headquartered in Masvingo Urban, has managed to spread its wings across the country with 18 branches.
Under the able leadership of Mazarire, Hillthru Enterprises has managed to be an all-weather friend to civil servants by granting them loans at affordable and favorable rates.
For his unparalleled business acumen, Megafest Holdings, the custodians of the Megafest Business Awards, crowned Mazarire with the colourful title.
Mazarire managed to shrug off competition from N. Richards Group southern region director, Andrew Chekani who was named first runner up.
The business mogul also has footprints in mining, agriculture, education, politics, philanthropy and retail across the province and beyond.
Mazarire expressed gratitude for the accolade bestowed upon him, saying he took it to be a special recognition for his resilience in providing services despite the difficult economic conditions.
"It comes as a great honor to me and my company. I never thought our work could be impacting the lives of so many people.
"We thrive as the best money lending institution in the country and by the ways things are going, we can confidently say the future is ours.
"I would not have done it without the support of my staff and I would like to thank them unreservedly for working towards the organisational vision," said Mazarire.
As the country moves towards devolution to provinces, business people like Mazarire, among others, carry the province's hopes of achieving the upper middle income economy by 2030.