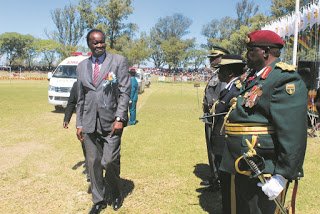 Upenyu Chaota
Minister of State for Provincial Affairs for Masvingo Shuvai Mahofa, who was being assisted to walk by an aide and using a walking stick, experienced probably the most embarrassing incident in her life when she failed to disembark from a Mercedes Benz before she was assisted by an aide from the President's office at the Independence Day Celebrations held at Mucheke Stadium on Monday.
Mahofa, who again failed to climb the steps to the podium and was assisted by two more aides from the President's office who literally lifted her step by step, was expected to inspect the guard of honour but Josaya Hungwe the Minister of Liaison on Psychomotor Activities in Education and Vocational Training came to her rescue and inspected the guard of honour on her behalf.
People had to wait for almost an hour for Hungwe to arrive at Mucheke Stadium so that he could inspect the guard of honour on behalf of Mahofa who was already resting in her chair at the podium.
A defensive Hungwe confirmed that he assisted Mahofa because she had not yet fully recovered and hastened to say there was nothing wrong with that.
"Yes; I assisted her and I do not see anything wrong with that; this is the reason I am here today," said Hungwe.
As if that was not enough, Mahofa failed to stand to read President Robert Mugabe's independence speech and had to read while seated.  This has become Mahofa's trademark anyway, but she received criticism from the people who attended the celebrations who said she should resign.
"Mahofa is surrounded by heartless people; they should allow her to rest. This is not good for her health and she must resign," said one youth at Mucheke Stadium.
Mahofa however expressed concern over the drought which has hit the province and assured people that government will import maize grain enough for all starving families.
"The El-Nino effect has ushered a deadly blow to crops and livestock production in the country and Masvingo has been hardest hit. The fields will not yield anything and the government is doing everything possible to ensure that there is relief aid for its people," said Mahofa.
She also castigated corruption since it has brought rot to the country.
"For the nation to be free and peaceful let's shun corruption, regionalism and nepotism. We should stop associating people with their tribes, the President has called for a stop to that. 
"We should always remember that we are one people, united by the bond of independence," she said.
She praised the security forces for upholding peace and tranquillity in the country.news
—
Tel :         +263 39 262 401 
He who said it can not be done must not disturb the one doing it!