. As Mujuru pressure continues to mount
Passmore Kuzipa
MASVINGO – Zanu-PF national political commissar Saviour Kasukuwere will literally set base here in Masvingo soon after the Easter Holidays as he has vowed to preside over party inter-district meetings to be held across the province starting next week, with those fingered as rogue elements being kicked out of the party.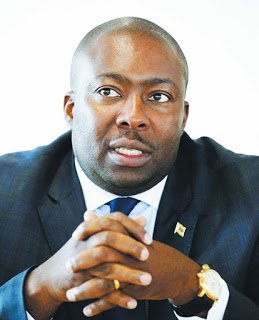 Saviour Kasukuwere
Addressing the Zanu-PF Masvingo Provincial Co-ordinating Committee (PCC) at Victoria Primary School over the weekend, Kasukuwere said he would camp in Masvingo to ensure that all concerns of party supporters at grassroots, which are often ignored, are being addressed and insisted that there would be no sacred cows in the party, emphasising on the need for unity in the party.
"I will be here to oversee the inter-district meetings soon after Easter; we want to deal with all rogue elements in the party," said Kasukuwere.
He, however, seemed to be afraid of the newly-formed Zimbabwe People First (ZPF) party as he urged the provincial executive to be united and fight the Joice Mujuru-led party. Kasukuwere even denigrated the firebrand former Zanu-PF politburo members Dzikamai Mavhaire, Claudius Makova and Kudakwashe Bhasikiti, describing them as political novices.
Kasukuwere, who is believed to be one of the front-runners of the Generation 40 (G40) faction which allegedly supports First Lady Grace Mugabe, also attacked a faction perceived to be aligned to Vice-President Emmerson Mnangagwa for allegedly plotting to oust President Robert Mugabe from power.
"The succession issue has brought instability in the party; there are people who are plotting to oust President Mugabe. To talk about who will replace President Mugabe is out of question because he is still there and there is no vacancy. Why then do we waste time fighting for a non-existent post? Let us decrease the volume of tearing each other apart and increase the volume of working together as a party," said Kasukuwere.
Tyson, as Kasukuwere is popularly known in Zanu-PF, however, stunned many party members when he vehemently defended suspended Gutu South MP Dr Paul Chimedza, who was alleged to have been spotted at a People First meeting.
"I am happy my brother Chimedza you are here; there have been reports in the media that you were spotted at a People First meeting but I know those were lies. He (Chimedza) is one of us, he belongs to the party but they want to tarnish his image," said Kasukuwere, amid reports that G40 is courting all members in Zanu-PF that are linked to People First.
Meanwhile, Chief Fortune Charumbira also confirmed that there is a clique in Zanu-PF which is plotting to oust President Mugabe, urging party members to openly name and shame such people. Chief Charumbira also fumed about ministers who lie to the people that there is enough food aid when people are actually starving across the country.
"We are seeing ministers on television saying there is plenty of food coming yet people are starving – where is the food? Stop political statements when it comes to issues to do with food because people are starving," said Charumbira.
"We want people who plot to oust President Mugabe to be exposed; let us name and shame them. At whatever level in the party let us expose those people. Chiefs and village heads support Zanu-PF and many a time we are being persecuted for that," added Charumbira.
Tel : +263 39 262 401

He who said it can not be done must not disturb the one doing it!