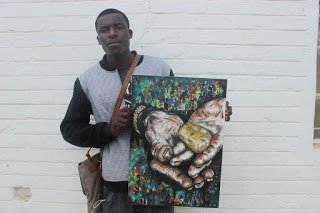 Itai Muzondo
Masvingo – A local-based budding painter, Michael Moyo is setting his sights on exhibiting in national galleries, saying he is determined to reach greater heights as he works to popularise his works across the country.
The youthful Moyo, who is also a Masvingo Polytechnic art student, says art is in his blood and is working hard to let people see and appreciate his work.
"I dream big and my perfection will definitely take me to my dreams. My dream is to exhibit my work across the world and be recognised among the world's finest contemporary painters," Moyo told TellZim News.
The young painter, who revealed his father Emmanuel Moyo is also an artist, said his passion for art started after seeing his father's works that capture issues to do with current humanitarian and political affairs.
"My paintings portray day to day issues that are highlighted by the media. I have also started doing images based on agendas being driven by social media. I do that because it's an artist's duty to communicate practically with audiences so that they at least have reference to something when they engage in the public discourse," he added.
The talented artist has however lamented lack of exhibition opportunities in Masvingo province and the whole country saying many artistic pieces are going without the requisite recognition due to lack of opportunity.
"The most annoying things in the art industry include the low returns on effort and the very few platforms to exhibit our work as artists. So even if people I meet on a personal basis give praises to my work, it is worthy little if I am not able to derive material benefit out of it and if I am not able to expose my talent to the world," he said.new
—
Tel : +263 39 262 401

He who said it can not be done must not disturb the one doing it!