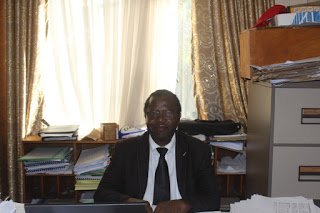 RCZ Education Secretary Samson Shava
Clayton Shereni
The Reformed Church in Zimbabwe (RCZ) on Saturday February 9, held the annual athletics Inter-Dutch high schools games at Zimuto High where pupils from eleven schools vied for honours in various athletics activities.
The Mabhuku RCZ Bookshop and Cantwater Enterprises-sponsored tournament saw both male and female pupils taking part in age group categories namely under 15, 17 and 20 years.
Overall, Gutu High came out tops with 22 gold medals, 18 silver, 11 bronze while Pamushana came second with 11 gold, 21 silver, 12 bronze. Chibi took up the third slot with 14 gold, 11 silver and 14 bronze medals.
Alheit, Jichidza, Nyashanu, Makumbe, Zimuto, Margaret Hugo, Morgenster and Henry Murray occupied positions four to eleven respectively.
The overall winners Gutu High showed class in the boys' categories to win in the Under 17 and 20 age groups while Alheit won in the under 15 years' category.
In the girls' category, second-placed Pamushana won with their Under 17 and 20 girls while Chibi took charge in the Under 15 years' age group.
The games, that were launched around 1964, saw four pupils breaking the previous set records in the 100m, 200m and 1 500m races.
In the Under 20 boys' category, Lesley Chihwayi of Makumbe High and Martin Magumeni of Pamushana finished 100m and 200m races in 10.10 seconds and 19.4 seconds respectively to break the previous year's records.
Long distance runner Selmor Gwembo from Alheit set a new 1500m record of five minutes in the Under 17 girls while in the boys' category of the same age group, Silas Chinyama set a record of four minutes four seconds.
Henry Murray School for the Deaf and Margaret Hugo School for the Blind also performed impressively and won five and four medals respectively.
Speaking to TellZim News after the games RCZ education secretary Samson Shava said the Inter Dutch games were a stage for interactions and getting to make connections.
He said the games were a platform on which schools could showcase their worth in various sporting activities.
"Our schools get to strengthen their bonds through sport and they help to prepare pupils for better opportunities later in life.
"We rotate these games among the schools to give everybody a chance to improve their facilities and host the games," said Shava.
The games have three clusters namely athletics for the first term, ball games for the second term and the quiz, public speaking or debate for the third term.
The games have produced the likes of United States of America (USA)-based athlete Kudzai Maguranyanga, Caps United forward Gabriel Nyoni and former Supersport United striker Simba Nhivi.