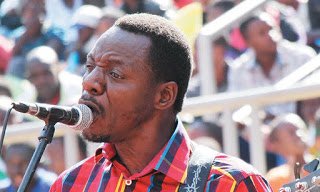 Davison Marenga
A resurgent Alick Macheso last weekend proved naysayers wrong with an exhilarating performance at FC Platinum night club which reasserted the Sungura king's dominance of the genre.
Sungura fans in Zvishavane and the rest of the country had, over the past two years, begun to write obituaries for Sungura music citing the rise of Zim Dancehall and Macheso's decline.
"Sekuru vevazukuru", as Macheso has lately been called following the release of his latest album Tsoka dzerwendo, has proven to be still in form as his fans who had despaired about him have since discovered.
His new name points to a new crown his fans have given him: the grandfather of Sungura with his contemporaries being relegated to grandchildren.
"Macheso gave a sterling performance. Revellers were happy to see Macheso back in Zvishavane after a very long time. Most of us his fans had written him off after he spent almost three years without releasing any new composition," said one of his fans.
Another fan said she was impressed with Macheso's lively comeback shows, saying the 'Makandidana' hit maker had shamed critics who thought Sungura had been killed by Zim Dancehall.
"His energetic performance at FC Platinum and his other shows elsewhere is proof that Macheso is here to stay and it has put Zim Dancehall in its proper place. I can't wait to have him back in Zvishavane," said the fan.
Songs from his latest offering that kept his fans on their toes at the popular Zvishavane joint include 'Mude', 'Baba' and 'Zvidzidzo'.
Popular dancers in Macheso's camp Majuice added an icing to the cake and mesmerised revellers with his latest moves known as "Chihuta dance."
Last week, talented lead guitarist Noel Nyazanda, who had left the band and formed his own Orchestra Kwazvose after a fallout with his boss, was accepted back into Orchestra Mberikwazo.news
—

He who said it can not be done must not disturb the one doing it!