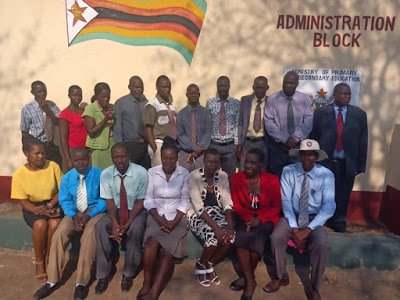 …school
takes pride in transformation drive
MWENEZI –
Maranda
High School's talented Under 17 boys' volleyball team has yet again raised
Masvingo province's flag higher after finishing at second position at the
recently-held National Beach Volleyball Competitions (NBVC).
The
tight national contests, hosted by Dewure High School in Gutu district from September
27 – 29, saw Maranda High's skilful boys progressing from group stage up to the
finals.
Under
the mentorship of Samuel Chatunga, popularly known in the volleyball circles as
'destroyer', the Maranda High team succeeded against tough competition from such
high schools such as Chibi, Churchill, Munene and Murambinda.
The
Maranda High squad managed to secure a clean ticket to the finals after
defeating Murambinda 2-0 in the semi-finals. They however, suffered a 2-0
defeat in the finals where they played Bulawayo-based Luveve High School.
Maranda
High School head, Henry Mapira praised the team for the superb performance, saying
such an achievement reflected the school's capability to achieve greater
results.
"The
boys' triumph is a landmark in the school's history and we dedicate this to
God. This is our second time in a row participating in the same games at
national level. This time around, we exceeded our previous performance and this
was made possible by our dedicated and hardworking staff.
"Owing
to the unwavering support rendered by our committed SDC, parents and business
community, our volleyball team has made us proud," said Mapira.
He
also told TellZim News that the school's strategic position in the entire
Mwenezi West had given them a challenge to turn it into a boarding school.
He
said he was happy that the school had recorded a steadily rising pass rate over
the years, leading to parents from the most unlikely places coming to find
placement for their children.
Maranda
High, which is one of the leading schools in the whole Mwenezi district, is on
a transformation drive which involves the upgrading of facilities and the
construction of a perimeter wall to improve security.