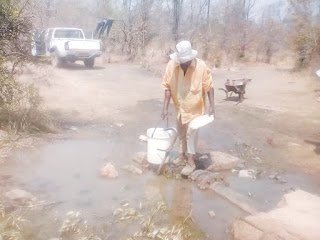 An unidentified man fetches raw water from a leaking GZU pipe in Mashava


MASHAVA –
Disso and Bere
locations in Mashava area are sitting on a cholera time bomb as water and
sanitation problems continue to worsen at a time the country is facing a
cholera outbreak.
Disso location,
with a total of 208 households, is the most affected as the area does not have
even a single functional toilet following the closure of the four overflowing Blair
toilets.
Masvingo Rural
District Council (RDC) Ward 5 councillor, Aleta Makomeke lamented the crisis,
saying she was working with the local legislator Ezra Chadzamira, who has also
been appointed Minister of State for Masvingo provincial Affairs, to sink
boreholes for the people.
"There is a
serious crisis at Disso, the few toilets which were there are now full and
people have resorted to using the bush yet there is no running water to wash
hands. The MP is working to provide boreholes through a government programme
which is underway," said Makomeke.
She said the situation
needed urgent attention and called upon the corporate world to join hands
before the outbreak of diseases.
"I am calling
upon the corporate world, churches and non-governmental organisations and
individual well-wishers to help us with movable toilets and water bowsers
before something really bad happens," she said.
Christian Care, a
non-governmental organisation (NGO), recently visited the area to assess the
situation after Makomeke presented the dire state of affairs in the area to the
Masvingo Civil Protection Committee.
The
organisation's programmes officers, Andrew Chari and Brian Mangundu recently toured
Disso and Bere townships where they urged people to at least dig holes to bury
their stool when they go to relieve themselves in the bush until normal water
supplies are restored.
They also
promised to bring water purification tablets to the area for people to add to
the raw water they get from a Great Zimbabwe University (GZU) pipe running to
Mashava campus.
People living in
Disso are mainly immigrant labourers and their families who came from Malawi
and Zambia several decades ago when the now closed Shabani Mashava Mines were
still thriving.