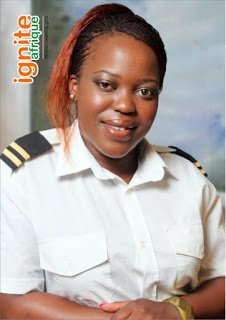 Ruth Mutopo
Charles Maregere
Inspired by both Captain Irene Koki Mutungi of Kenya Airways and Captain Chipo Matimba of Air Zimbabwe, Ruth did her aviation training with Fly Africa Flight Academy in Harare.
"Self-development of women can build a better Rome so young girls should not feel discouraged and neither should they look down upon themselves. Rather, they should be strong and assertive," Mutopo says.
"Kunewe mwanasikana ndinoda kukukurudzira kuti paunoverenga, verenga uine tariro, verenga uchiziva kuti ramangwana riri mumaoko ako, verenga uchiziva kuti hapana chinonzi hachigoneke, zvese zvinogoneka, wakasununguka uye gutsikana kuti unogona kuita chese chaunoda kuva muhupenyu hwako saka dzidza nesimba," she says.
One of the reasons why people cannot venture into the field is because of lack of experience: A pilot needs at least 250 hours of flight experience to earn a commercial pilot licence.
Though Mutopo flies fixed wing planes she says pilots who fly helicopters must constantly look out for trees, bridges, power lines, transmission towers, and other dangerous obstacles. Regardless of the type of aircraft, all pilots must monitor warning devices that detect sudden shifts in wind patterns.
For all but small aircraft, two pilots usually make up the cockpit crew. Generally, the most experienced pilot, the captain, is in command and supervises all other crew members. The co-pilot often called the first officer, shares flight duties with the captain. These duties include communicating with air traffic controllers, monitoring instruments, and steering the plane.
High costs of pilot training programs are still the main hindrance for most young girls dreaming of being pilots.
Inspired by Sir Richards Benson (Virgin Airlines owner), Mutopo's favourite planes are private jets with Bombardier and Gulfstream being her favourite models while the Philippines and Thailand are her favourite destinations.