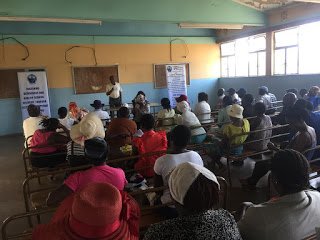 Masvingo residents have come
out guns blazing against threats by city council to unleash debt collectors on
them over unpaid bills at a time when authorities are failing to provide a
reliable water supply.
Speaking during a recent
service delivery monitoring meeting organised by the Masvingo Residents and
Ratepayers Alliance (MURRA) at Mucheke Hall, residents questioned why the
council continued to target them when they owe smaller amounts than what is
owed by government departments.
Residents last week received
letters with a seven-day ultimatum to pay up their debts or face the full wrath
of debt collectors.
Residents, however, say the move is
unjustified since they rarely receive water owing to inadequate pumping
capacity now worsened by severe power cuts.
"This is just not fair, they want to be
heavy-handed with small debtors yet they are letting those who owe millions get
away with it. We are not receiving water in our tapes but they want to force us
to pay bills," said Tracy Musakaruka of Ward 1.
Other residents said council must send the
debt collector to the army, police and prisons services which owe close to $30
million in unpaid water bills.
"We think it's noble that the council
focus its attention in recovering huge debts from government institutions and
security forces like the army and the police. We know they owe big time but
they are treated with kiddies' gloves," complained Tapiwa Magura.
MURRA programmes manager, Esther Nyambiya
said while the organisation has always encouraged residents to pay their bills,
it will not shy away from criticising selective application of rules.
"We always remind our members to pay their
dues so that council delivers, but we are concerned when council decides to
torment our members only for unpaid debts. We condemn that," Nyambiya said.
Mayor Collen Maboke and Ward 1 Cllr Selina
Maridza, who were invited to the meeting, failed to turn up despite having
confirmed attendance.
Council argues that it needs to
use debt collectors as residents allegedly do not want to pay what they owe.