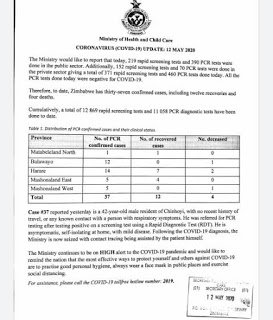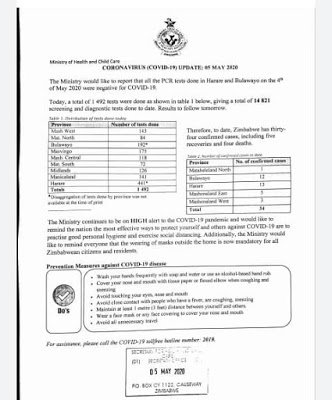 TellZim Reporter
The 1000 rapid test kits that Masvingo provincial health authorities
received from the national government barely a week ago are finished and all
Covid-19 testing has therefore ceased and will only resume once another
consignment is received, TellZim has learnt.
Provincial Medical Director (PMD) Dr Amadeus Shamu told TellZim in an interview
that the several dozen citizens who were recently repatriated from neighbouring
countries mainly South Africa had put a strain on testing resources.
"We have about 298 people in quarantine at Masvingo Teachers' College
and I am glad that they have all been tested. However, we no longer have any
testing kits left so we can't continue with the testing programme at the
moment," said Shamu.
He could not, however, reveal the time-frames as to when the other batch
could be expected to come.
Due to the shortage of test kits, authorities had last conducted tests
on April 23 before resuming duty on May 02 after the arrival of the second
batch of the test kits.
Some countries like India and UK have condemned millions of test kits
imported from two Chinese companies Guangzhou
Wondfo Biotech and Zhuhai Livzon Diagnostics after they were found to be
faulty; producing false positive and negative results.
Meanwhile, government has changed the reporting format of the daily national
Covid-19 test results updates by omitting the provincial figures from the
diagram since May 06.