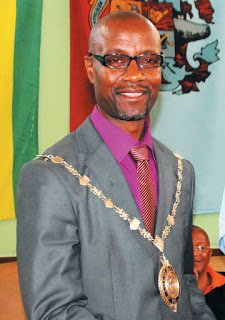 Hubert Fidze
16/January/2016, 2018 is fast approaching and new candidates are emerging. TellZim News decided to rate the performance of councillors for the just ended 2016. We hope this fair analysis will help those who want to seek re-election to realise their weaknesses and strengths so that they can act accordingly while aspiring candidates observe where there is need for leadership replacement. The ratings are a product of wide consultations with residents and other stakeholders.
Ward 6 – Mayor Hubert Fidze 9/10
Councillor Hubert Fidze is a true example of a good leader – a loyal and humble servant who truly and obediently represented the interests of the residents of Masvingo. Fidze was the best communicator for the year 2016, and his use of social media particularly Facebook and WhatsaApp groups to reach out to the residents was unmatched.
Information about delays of garbage collection due to refuse trucks breakdown, water shortage due to burst pipes, low dam water levels and many other critical information required by residents was made available in a country where access to official information is almost taboo. Fidze stands a better chance of being re-elected in Ward Six; that is; if he is not aiming a higher office.
Ward 4 – Godfrey Kurauone 8/10
Godfrey Kurauone is the youngest councillor but he has done a tremendous job in 2016. The young man should be accredited for being a true representative of the residents – he was very active in council debates during full council meetings. Kurauone solely objected the abuse of council funds through donations to Zanu PF functions like the 21st February Movement celebrations and the just ended Zanu PF 16th national conference. Kurauone is therefore given credit for rejecting partisan abuse of public funds.
Kurauone is also still the darling of Ward Four people; he is always with the people and listen to their needs. He has managed to mobilise a number of organisations to donate to Mucheke Old People's Home which falls in his ward.
Ward 8 – Against Chiteme 7/10
Against Chiteme seems to be a God fearing councillor. He rarely contributes in council debates but is not too proud to ask if he has not understood so that he goes back with the correct information when he gives feedback. Vendors at Chitima market have been using bush toilet but the councillor managed to push for the construction of proper ablution facilities at the market. He also managed few other projects like the fish project for the youth he initiated. Chiteme however, should improve his participation in full council meetings' debates so that he becomes a complete councillor any ward would want to have. He is riding high on the support of his fellow 'Madzibaba' church members which might make it probably difficult to dislodge him in 2018.
Ward 10 – Lovemore Mufamba 7/10
Lovemore Mufamba started on a good note when he was elected in 2013 making several donations and project initiatives in the ward. He donated boreholes; water tanks and assisted pre-schools among other projects. However, the dismissal of people linked to the Joice Mujuru cabal like Dzikamai Mavhaire might have disturbed him a lot as he suddenly slowed down. Or is it because he puts more concentration on his school project in the Victoria Ranch? Mufamba participates in council debates, and it is always him and Kurauone most of the time. But political fanaticism seems to be his greatest handicap as he normally pushes for retrogressive policies simply because they please Zanu PF, even though those policies would be against the interests of residents. Mufamba needs to quickly go back to the people in his ward or else he would kiss goodbye to ward 10. For now, no better prospective candidate than him has emerged so he is best advised to capitalise on that and start going back to residents of ward 10. He still stands a better chance for re-election though, at least for now!
Ward 7 – Richard Musekiwa 6/10
Richard Musekiwa is quiet but hardworking. His character is close to councillor Chiteme with the MDC-T councillor always asking for clarification during council debates. Musekiwa is not as talkative as other councillors but he believes in doing; less words more action. He initiated quite a number of projects in his ward as well as organising clean-up campaigns to keep the ward clean. Musekiwa however, should improve his participation in council debates so that he can fully represent the interests of ward seven residents. The MDC-T district executive has expressed satisfaction with his work therefore, he might not have any serious challenge to win party primary elections if he still wants to seek re-election in 2018. He however, needs to pull up his socks as strong candidates are already emerging from other political parties.
Ward 1 – Garcia Mundondo 6/10
They call him 'Goliath of Mucheke'. But those who know the Bible very well would agree with me that Goliath was defeated by a tiny David – a shepherd for that matter! Whether the nickname resembles Mundondo's good or bad deeds only people from ward one know better. Mundondo has managed to do few projects ranging from chicks donations to assisting at funerals by buying coffins. He also donated to squatters in his ward. In full council meetings, Mundondo has managed to reduce himself to a mere Pastor who would give opening and closing prayers – preferring to remain quiet during debates. As a Pastor, Mundondo should also work on his conduct in public lest he puts the name of his church in disrepute. Thank God he was not in the media for any wrongdoing in the year 2016, maybe it was because journalists were concentrating more on factional wars between Team Lacoste and Generation 40 (G40) in his troubled Zanu PF party. The 'Goliath of Mucheke' might face a mammoth task to retain the ward in 2018, but for now no strong candidate who can dislodge him has emerged.
Ward 5 – Daniel Mberikunashe 5/10
Daniel Mberikunashe was not so active in the past year. He rarely participated in council debates but he should be credited for initiating some projects for women and youth in the ward. Clean-up campaign clubs, organising meetings with various civic organisations to educate residents on different issues. Mberikunashe is a humble leader and that might help him to get re-election.
Ward 2 – Tascicio Mandaba 4/10
But where is Councillor Tascicio Mandaba? What happened to him? He was very energetic when he was elected in 2013 and has done quite a number of projects in ward two. If there is any person who has been seriously affected by the Zanu PF factional wars then surely it is councillor Mandaba – he preferred to hibernate until the winds settle down. But 2018 is fast approaching and Mandaba should show up in the ward and convince the electorate that he deserves another chance come 2018. He should carry on from where he left and, certainly, he will stand a better chance as no strong candidate has emerged so far.
Ward 9 – Babylon Beta 4/10
This reporter struggled to find anything worth mentioning as residents seem not to know much about their councillor. Maybe it was because residents were ignorant or councillor Beta should increase his visibility in the ward. Naturally, Beta is a quiet man and as a result he is less active in council debates. He made one promise; that is, to push for the construction of a clinic in Rhodene. With one year remaining before his term lapses, chances are getting slim that his dream of constructing a clinic would be fulfilled. Ward 9 is a trick ward therefore, I would suggest that Beta concentrates more on giving feedback and listening to issues which he would move motions in the chambers. Beta however, is respected by the MDC-T family due to his sound advices. Our prayers are that he does the same when he is conducting council business.
Ward 3 – James Chiwara 3/10
James Chiwara is the deputy mayor. This reporter is sure MDC-T seconded him to be the deputy mayor basing more on his age and not merits – that is the danger of Zimbabwean politics. But the deputy mayor is the most improved councillor though he still anchors the performance table. He managed to chair few council meetings and even debate in the chambers. Chiwara should however, improve on having feedback meetings with residents. Above all, Chiwara should also monitor his conduct on social media. He knows what I mean!news