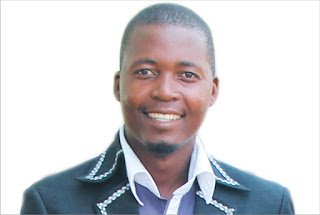 Staff Reporter 
MASVINGO – Masvingo's fastest growing newspaper, TellZim News Director, Golden Maunganidze has been invited to participate in President Barack Obama's Mandela Washington Fellowship for Young African Leaders in the United States of America (USA).
Maunganidze has left Zimbabwe today (Thursday) and is expected to spend the next six weeks at Kansas State University, at the Staley School of Leadership Studies where he will hone his journalistic and leadership skills through interacting with renowned Professors and academics.
At the end of the programme in August, Maunganidze will join 1000 other young leaders from all over Africa in Washington DC where they will be addressed by President Obama.
Maunganidze is the first young leader from Masvingo to be selected to participate in this prestigious programme.
Karen Kelly, the Counsellor for Public Affairs at the United States Embassy in Harare said participants were chosen through a highly competitive application process with more than 1600 candidates having submitted their applications.
Maunganidze, who is also a Media studies lecturer at Great Zimbabwe University (GZU) has over ten years' experience working in the Zimbabwean media industry. 
Before joining GZU, Maunganidze worked as a journalist and editor of community newspapers in Masvingo and he won several journalistic awards for using the media to champion development in his community. 
Maunganidze is the current provincial chairperson for the Media Institute of Southern Africa (MISA). He is also the deputy national secretary-general for Journalists And Media Trainers Association of Zimbabwe (JAMTAZ).
In a clear endorsement of his leadership skills, Maunganidze was recently appointed the board treasurer of the Community Tolerance, Reconciliation and Development Trust (COTRAD), a civic organisation based in Masvingo province.
He holds a Master's degree in Media and Society Studies and several journalism postgraduate diplomas and certificates obtained from Germany, Zambia and America.
"I am sure that I was not selected by mistake, I am going to make use of this opportunity to sharpen both my journalism and leadership skills. I think the fellowship will add value to my profession and go a long way in improving the quality of work at home," said Maunganidze.news
—
Tel :         +263 39 262 401 
He who said it can not be done must not disturb the one doing it!