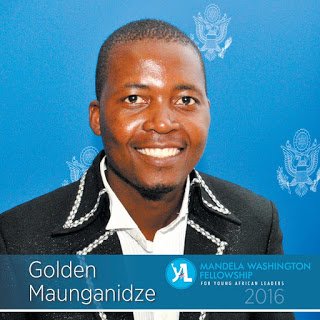 Own Correspondent
KANSAS, USA – Young leaders from 14 African countries persuing Civic Leadership studies at Kansas State University in America elected TellZim News director Golden Maunganidze to go and deliver a speech at U.S President Barack Obama's presidential summit for the Mandela Washington fellows to be held in Washington DC from August 1 – 3, 2016.
The fellows said they have no doubt that Maunganidze will be able to represent both their countries as well as Kansas State University.
Maunganidze is expected to deliver an inspirational speech to about 1000 young African leaders, US State Department and Government officials and other representatives from world class organizations in Washington DC next week.
The ignite talk speech is supposed to be motivational and help young people throughout Africa to realize their potential in the development of their communities.
"After being with Maunganidze for about a month now, I have no doubt that he is our best choice – he has demonstrated leadership qualities and we expect him to go and inspire other young African leaders when we go to Washington DC," said Samuel Gibba from The Gambia.
Another participant Stephen Ofori from Ghana said he was impressed by Maunganidze's profile and the work he was doing back in Zimbabwe.
"To me, Maunganidze is a role model for the kind of youth that Africa is yearning for – he is a man whose integrity is intact. His work in Zimbabwe is amazing and we need to start energizing each other as we fight to bring positive change to our communities," said Ofori.
For Benetta Davies from Liberia, Maunganidze has great potential to inspire African youth to think outside the box.
"I am personally inspired by what Maunganidze is doing and that has left me without any option beside the conviction that he will be able to represent us well. To me, he is a man of action who always preaches what he does," said Davies.
A fellow from Cameroon, Theresa Morfaw Fonjia said she was eagerly waiting for the Presidential Summit in Washngton DC.
"I think this is going to be exciting to see one of us (Maunganidze) speaking on our behalf. He has proved to be a leader within the short space of time that I have known him and we are going to support him all the way. His personal life journey is an inspiration to many people," said Fonjia.
Maunganidze, who is also a lecturer at Great Zimbabwe University (GZU), thanked fellow young African leaders for having confidence in him.
"This is my best moment…I had never spent six weeks living with leaders from various countries and it comes as an honour when such leaders who include lawyers, community builders, journalists, health workers and university lecturers come together and agree to elect you to be their representative at such a platform. I am humbled by the confidence which my fellows have in me and I am constantly reminded that I did not come to this programme by mistake," said Maunganidze.
The 14 countries represented are Ethiopia, Kenya, Sudan, Namibia, Senegal, Cameroon, Liberia, Zambia, Guinea, Sierra Leone, Ghana, The Gambia, Nigeria and Zimbabwe.news
—
Tel : +263 39 262 401

He who said it can not be done must not disturb the one doing it!