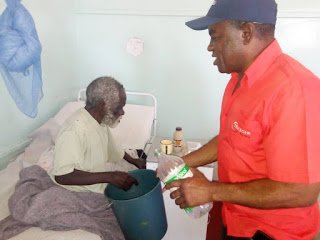 RUSAPE –
Member of Parliament
(MP) for Makoni Central, David Tekeshe has paid a visit to some of the
survivors of the recent Rusape bus accident horror who are being hospitalised
at Rusape General Hospital.
The
accident claimed 50 lives and maimed many more after a Smart Express bus
side-swapped a Bolt Cutter bus while trying to overtake a truck along the
Harare-Mutare highway.
Tekeshe
said he was in Bulawayo for a pre-budget seminar when the accident happened,
saying the news distressed him beyond measure.
He
said by the time he made it to Rusape General Hospital for the first time after
the accident, most survivors of the accident had already been transferred to
other hospitals in Harare, Marondera and Mutare.
"I
send my condolence massages to all the bereaved families around the country for
the loss of their family members, friends and relatives. I also wish those who
got injured a speedy recovery," said Tekeshe.
The
MP also visited an old homeless man who used to stay at Vengere bus terminus
and has been waiting to undergo surgery at Mutare Provincial Hospital. The man was still admitted at Rusape General Hospital where he is being fed pending an
operation on his private parts at Mutare Provincial Hospital.
Tekeshe
rescued the gravely ill man from the bus terminus and took him to hospital but
attempts to get the Social Welfare Department help him with funds for treatment
have not succeeded.
As
a member of the Parliamentary Portfolio Committee on Public Service, Labour and
Social Welfare, Tekeshe is pushing for government to pay social grants for such
highly vulnerable members of society as the blind, the deaf and people with
other forms of disabilities.