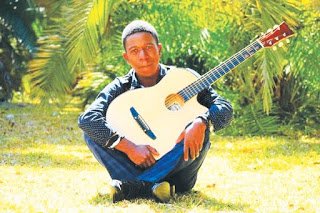 Batsirai Shasha
Rutendo Chitore
GWERU – A Midlands State University (MSU), Music Science student and his band have released their debut album which they say was inspired by the unconditional mother's love.
Batsirai Shasha and his Royal Voices band came together long before entering university when they realised that they all shared similar tastes in music.
The album, titled First of Many, was released on Wednesday October 03 to much acclaim within the wide student fan base that the group has gained at the institution of higher learning.
In an interview with TellZim News, the upcoming artist said his acapella serenades were motivated by his mother's unconditional love to sing acapella.
"My life experiences and the desire to appreciate my mother and all other mothers who are doing a great job of raising families inspired me to come up with a different approach to acapella. The music I sing is tribute to the invaluable role that a mother plays in the life of a child," said Shasha.
The-22-year-old budding artist said the acapella group was formed during their high school days but they did not gain much popularity on the local music scene until he released his first commercial single titled Nguva Yenyasha which has been trending on local radio station, 98.4 FM.
Shasha, who is a Starbrite 2016 semi-finalist and talented instrumentalist, has released four  singles in two months and will be part of the upcoming live jazz festival to held at Francoise in Harare on November 2018.entertainment