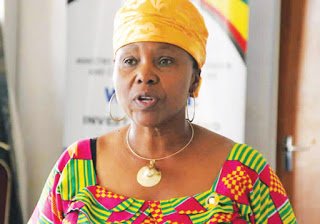 Oppah Muchinguri


Upenyu Chaota
Defence minister and Zanu PF national chairperson, Oppah Muchinguri has paid tribute to the late former Minister of State for Masvingo Provincial Affairs, Shuvai Mahofa saying she was part of a unique breed of politicians who never wavered.
Addressing a Zanu PF provincial inter-district conference at Masvingo Polytechnic College on Monday (December 3), Muchinguri said it was impossible to talk about Zanu PF without mentioning Mahofa's name.
Chikoforo, as Mahofa was widely known, was a staunch supporter of then Vice President Emmerson Mnangagwa and was allegedly poisoned in 2015 in Victoria Falls at the Zanu PF National People's Conference leading to her death in August 2017.
"Ndinonzwa kushushikana nekurasikirwa kwatakaitwa nemusikana mukuru Chikoforo, Mahofa. Haingavi nyika, haingavi Zanu PF isina Chikoforo. Ndinonzwa kubatikana nekuti ini ndakashanda zvakanyanya nemusikana anonzi Chikoforo. Ndinorwadziwa nekuti munhu anga akarurama (I feel sadden by the loss of Mahofa. We cannot talk of Zanu PF or Zimbabwe without Mahofa. I feel greatly saddened because I worked closely with her and she was a straightforward person)," said Muchinguri.
She said former first lady Grace Mugabe duped them all into giving her the powerful Women's League leadership post but Mahofa stood by her conviction.
"Mahofa was poisoned and vilified for refusing to acknowledge Grace Mugabe. This is what led to her untimely death because this woman could have become President. Mahofa said over her dead body would she acknowledge Grace Mugabe and that is what made her a target," said Muchinguri.
Since the poisoning incident in 2015, Mahofa went in and out of hospital battling a number of ailments.
When Mnangagwa was allegedly poisoned last year in Gwanda and whisked to South Africa for treatment, it is said that Mahofa cried for two hours fearing for the life of her long-time ally.
It is believed that the Mnangagwa poisoning incident took a toll on Mahofa's frail health as her blood pressure is said to have sharply rose and she collapsed.
She was taken to the hospital and was pronounced dead upon arrival.
Mahofa was buried at the National Heroes' Acre while her ally, Mnangagwa, was still battling for his life.
Her burial was marred by controversy as G40 and Lacoste factions clashed with the latter not happy that the funeral was being superintended by then Vice President Phelekezela Mphoko, a known G40 functionary.
When Mnangagwa returned from hospital, he attended Mahofa's memorial where he, for the first time, launched a scathing attack on the G40 faction.
"Vekumavhitori (Masvingo) vanoti kumagumo kune nyaya. Tasvika here panyaya? Ukahwa vanhu vachiti kumagumo kune nyaya zvivheneke uone kuti painouya nyaya iyi unenge uri papi maererano nenyaya yacho. (Masvingo you sing 'kumagumo kune nyaya', one therefore, should do self-introspection to see where they will be standing once the imminent end comes). There will be gnashing of teeth at the end," said Mnangagwa then.