The rule of the beautiful game of football is very clear – at least a team of six players, though the full squad should have 11, can still play. Coaches use various formations including the popular 4-4-2, 3-5-2 and

4-5-1 formations.
But President Robert Mugabe is a different mentor altogether because with just seven players he has been winning matches against a full squad employing his favourite 4-3 formation.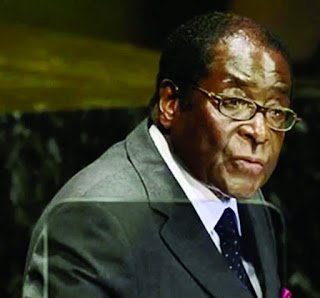 The February 12, 2016, outburst by Mugabe's wife Grace and his deputy, Phelekhezela Mphoko, that the Karangas will never ever rule this country and that the Zezurus were unconquerable, however, exposed Mugabe's formation which he has used to remain at the helm of Zanu-PF and Zimbabwe for the past 36 years.
Mugabe's 4-3 formation goes like this; when he became the President of the Republic of Zimbabwe in 1980 the country had only five provinces – Masvingo, Manicaland, Matebeleland, Midlands and Mashonaland. And this means in terms of the national cake each province was entitled to 20 per cent share.
Mugabe, as tactful as he always is, came up with a plan to manipulate three other provinces, save for Mashonaland and Matebeleland, so that he would remain in power and the Zezurus be as unconquerable as they are today.
Firstly, he forced the Unity Accord between Zanu and PF Zapu and one post of the two vice-presidents was reserved for the Ndebeles – policy of appeasement. Furthermore, the Matebeleland was given the green light to divide itself into three distinctive provinces – Matebeleland North, Bulawayo and Matebeleland South. Thus the three (3) upfront players for his formation and the other four (4) players came from Mashonaland which he also divided into four; that is, Mash East, Mash Central, Mash West and Harare.
The four provinces from Mashonaland all have Zezurus and certainly they always rally behind Mugabe. And the other three from Matebeleland would; because they have a Vice-President post reserved for them already, would rally behind Mugabe, thus completing his 4-3 magic rule.
Mugabe's formation however, has a negative impact on the other three provinces – Masvingo, Midlands and Manicaland. Firstly the national cake is no longer shared equitably; rather Mashonaland is now getting 40 percent (10 per cent per each province) and Matebeleland is getting 30 per cent (10 per each province) while the trio of Masvingo, Midlands and Manicaland have their share reduced from the 20 per cent soon after independence to 10 per cent.
Politically, any politician in Zanu PF either from Masvingo, Manicaland or Midlands who harbours presidential ambitions will never win the battle because of this 4-3 formation in which Mugabe will have at least four provinces from Mashonaland before he even campaigned, and would need at least two from Matebeleland to seal his victory. Literally, Mugabe does not need the Karangas from Masvingo, Midlands or Manyikas from Manicaland because, with or without them, victory is certain thanks to his 4-3 combination of the Zezurus and the Ndebeles.
A local political analyst, Dr Takavafira Zhou, took to social media this week castigating Mugabe for side-lining the Karangas and promoting tribalism through his wife Grace and Mphoko.
"The 12 February 2016 rally in Chiweshe not only saw Grace Mugabe, Pelekhezela Mphoko, Jonathan Moyo, Saviour Kasukuwere and Patrick Zhuwao, strategically positioning themselves for the post-Mugabe era but also witnessed reckless utterances by Mphoko to the effect that no Karanga would become President of Zimbabwe, while Grace and company danced to the tribalistic jingle of the 'Zezuru as unconquerable'. It became clear, that the President's wife has become not only disgraceful but also a loose cannon, acidic to national security and unity in diversity," Dr Zhou said.
"Is it not surprising that a country that had five provinces (Manicaland, Masvingo, Midlands, Mashonaland and Matabeleland) was conveniently divided to benefit the so called unconquerable Zezurus? Is it not surprising that a polishing diamonds industry could not be built in Manicaland where diamonds are mined but in the land of the unconquerables? Is it not worrisome that a new parliament could not be built in the second city Bulawayo, or Gweru, Masvingo and Mutare but is built in the land of the unconquerables?" He questioned.
The general people however, have appealed to President Mugabe that if he can no longer rein his wife, it is better to resign, rather than risk his demise from Zanu PF 'grace to grass' with monotonous regularity.
It's now clear, even vice-president Emmerson Mnangagwa might have interests in taking over from President Mugabe, the message from Mphoko and the Zezurus was very loud and clear – that the Karangas will never rule this country. We might need him as a Karanga to take over the reins, but Cde Ngwena as Mnangagwa is popularly known, the hot seat is for the unconquerable Zezurus lest you reverse Mugabe's 4-3 magic formation.
Mr President, may you share the national cake equally – let us revert to the five provinces system so that each province would get at least 20 per cent of the national cake.
Tel : +263 39 262 401

He who said it can not be done must not disturb the one doing it!