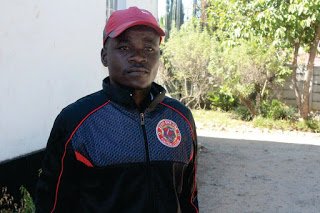 Faustino Mugeji
…as Pirates, Bikita Minerals register rare wins
Clayton Shereni
Faustino Mugeji came back to haunt his former pay masters, Masvingo United, by leading Eastern Region Division One debutants, Zero One One FC to a 1-0 win at Mucheke Stadium last Sunday.
Zero One One captain, Samson Mukaro was the hero of the day as his side's goal made all the difference two minutes into the second half.
The youthful side frustrated Una Una on several occasions, with Tendai Makanjera proving to be difficult for their midfield.
Mugeji recently joined the Chatsworth-based outfit after leading Una Una back into division one. He then left Una Una in pursuit of greener pastures at Masvingo Pirates at the beginning of 2018 season.
In an interview after the match, Mugeji said he was happy with the win though his team could have done better.
"We played well as a team and there was a good combination from the back to the strike force. We, however, missed a lot of glorious chances though we managed to get a goal. We will get back to the drawing board and prepare for our next assignment," said Mugeji.
The Una Una game was Mugeji's first game as Zero One One's interim coach after taking over from Morris Mukwiti who was promoted to the club's technical advisor post.
"Our young boys are so determined. So far, they have played exceptionally well and this is good. With this kind of play, nothing can stop us from playing in the much coveted Premier Soccer League (PSL) in two seasons to come," Mukwiti said.
The weekend also produced some unexpected results as Bikita Minerals FC triumphed 2-1 over division one big guns, Tenax FC.
Masvingo Pirates registered their first win of the season in nine matches after beating Gutu FC 3-1 at Paradise Stadium.