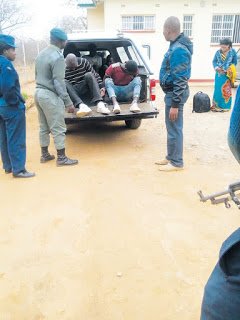 The suspected illegal immigrants arrive at the Mwenezi Magistrates' Court for their initial appearance
Cephas Shava
MWENEZI – Seven Malawi nationals who crossed the country illegally on their way to South Africa were last week intercepted by police in Mwenezi and were arrested for illegal immigration.
The suspects, Mike Wilson (18), Ibrahim Sitambule (20), Julio Mbilu (25), Ibra Witness (19), Austin Amiri (23), Wongani Kachali (22) and Moreen Chimbwira (18) who reside in various areas of Malawi's Lilongwe and Blantyre cities were not formally charged when they appeared before magistrate Honest Musiiwa.
They will face charges of Contravening Section 29 (1) (a) as read with Section 29 (2a) of the Immigration Act Chapter 4:2 'Alien enter or remain in Zimbabwe without a permit'.
The suspects, one of them a woman, told the court that they did not understand any other language except Chewa and were remanded in custody and referred to Masvingo Magistrates' Court were their case will be heard was to be heard on October 11.
It is the State case that on October 03, 2018 at around 02:00 hrs, Mwenezi police officers who were manning a roadblock at the 174 kilometre peg along Masvingo-Beitbridge Road intercepted an Urban Connect Bus registration number AEG 6386, which was destined for Beitbridge.
Upon searching the bus, the police officers came across the accused persons whom they ordered to produce their travelling documents.
After failing to produce the required documents, the seven suspects were immediately arrested.
Willard Chasi appeared for the State.