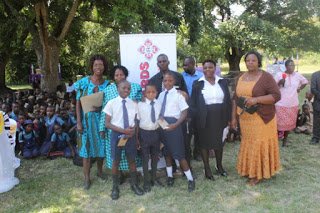 Nemamwa Primary quiz group with school head Clever Madzokere (in black shirt) and other staff members
Clever Taperamoyo
MASVINGO – Nemamwa Primary School last week won the Provincial Heritage Education Quiz Competition held at Great Zimbabwe World Heritage Campsite.
The competitions saw seven schools from the seven districts of Masvingo compete for the top spot which came with the right to represent the province at the nationals scheduled for May at the same venue.
The quiz competitions are aimed at enhancing heritage education as well as heritage appreciation among both the younger and older generations.
Nemamwa Primary, from Masvingo district, emerged the provincial champions with 49 points followed by Gutu United, from Gutu district, with 44 points.
Bani obtained 42, Mutsinzwa 36, Takavarasha 32 while Rutenga and Mudavanhu obtained 29 and 26 points respectively.
The winning team walked away with US$150 prize money while all other participant teams were given US$50 each. Various other prizes were also won courtesy of N. Richards Group who are the sponsors of the competitions.
Guest of honour, Raviro Chipato who is Morgenster Teacher's College principal, said this year's theme 'hyper-connected museums new approaches, new publics' was relevant to efforts to leverage the potential of social networks for museums' communication needs.
"It is important therefore that museums use social networks to reach out to all generations so as to enhance heritage understanding and appreciation," Chipato said.
Nemamwa Primary head, Clever Madzokere said the school was always working hard to excel and be on top in every regard.
"We appreciate the work that has been done to make this possible. Our children made us proud through their impressive performance in line with our motto 'like eagles we mount'. We look forward to another excellent performance in the national competitions," Madzokere said.education.