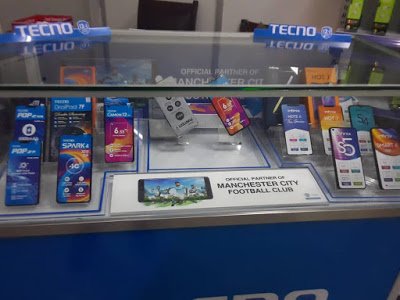 Some of the products marketed by Nurtwell
MASVINGO
–
Nurtwell Investments, the distributors of Itel products, have opened a shop in
Masvingo giving technology junkies a wide range of choices to choose from.
Nurtwell
Investments is housed at the Masvingo Trade Centre in the first floor.
The
shop offers a wide range of Itel, Tecno, Kgtel and Infinix smartphones. The
shop is inclusive and can accommodate customers from all backgrounds. Those
with deep pockets have a wide range to choose from and those with low budgets
have a range to choose from a well.
Run
by a youthful entrepreneur James Poshai, Nurtwell Investments has become the go
to shop if one wants to satiate their appetites and desires for technological
gadgets.
They
also provide wrist watches for both sexes, laptops, bond paper, cell phone
accessories among others.
Poshai
said he decided to open the shop and sell the phones at a cheaper price for a
quick return and make sure that every person can afford a phone which has
turned out to be a basic commodity.
"The
economic situation is not sparing anyone, we are all suffering but people need cell
phones for communication, so to make sure that everyone afford a phone.
"We
sell a wide range of cell phones from the simplest to the sophisticated ones,
we have reasonable the prices which guarantee consumer satisfaction.
"We
have realised that in business it's not all about making huge profits at the
expense of others and profits are not made from overcharging while the stock
remains," said Poshai
The
shop also sell HP laptops and printers, headphones, Bluetooth speakers, rechargeable
bulbs, torches, solar lamps and adaptors.