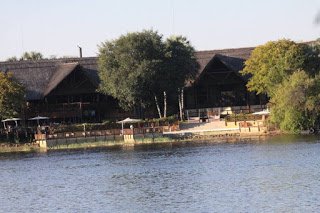 Azambezi Hotel on the Zambian side of the border along the Zambezi River. Photograph by Shingirai Vambe

VICTORIA FALLS –
Hospitality facilities in Zimbabwe have been described as unreasonably expensive especially when juxtaposed with similar services offered in neighbouring countries like Botswana and Zambia.
The distance from Victoria Falls to the closest spot in Botswana is around 90km while the journey to Livingstone in Zambia is only 15 km. It is however, a far much longer route to South Africa, with most of the tourists from there preferring air travel over road.
These factors, and the fact that local products and services are very expensive, are militating against efforts to grow the tourism sector so that it can create more jobs.
Although hotel occupancy rates are said to have risen significantly over the past few months, tour operators in Victoria Fall told TellZim News their clients often complain that services in the country are way more expensive than elsewhere.
They said tourists from South Africa, for example, find Zimbabwe particularly expensive due to the fact that rates are charged in the US dollar whose strength against their rand puts them at a disadvantage.
Tourists who had crossed into Zimbabwe from Botswana and Zambia also made similar comments, saying tour operators, lodges and hotels needed to come up with a more reasonable rates regime.
Misheck Muzaza, who works for Escape to Adventure Safaris, said most of their clients from South Africa, Botswana and Zambia cannot afford to spend a night in local hotels because their rand, pula or kwacha is rendered useless when benchmarked against the dollar pricing system.
"They say their own money, though it definitely cannot be expected to have the same purchasing power as the US dollar, works well in their own countries or elsewhere outside Zimbabwe. They make use of our safari services during the day and depart to Zambia in the evening to sleep," Muzaza said.
Local tourists have been hit hardest, with a night in Victoria Falls lodges or hotels becoming a preserve for a small elite with deep pockets.business