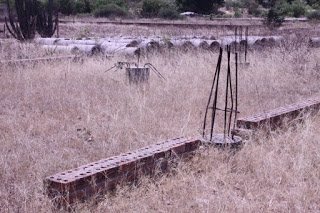 The long-abandoned Lupane Hospital project
BULAWAYO
– The people of
Eskhoveni in Umzingwani district last week spoke at the Health and Child Care
2019 consultative meeting saying their hospital building was just an old farmhouse
built in 1925 and now converted to a medical facility in response to the dire
need.
They made it
clear they were not impressed by the service delivery levels in the area,
saying like most parts of Matabeleland province, their area was marginalised.
They said they
had been making calls for a decent hospital and ambulances but nothing had been
done for them.
Others said the
amenities in the district were inadequate for a population of over 65 000
people, most of them being 45km from the nearest health centre.
District Medical
Officer (DMO) Dr Simbarashe Sanyamandwe, told the 10-member parliamentary portfolio
committee on health that much of the few available ambulances in the district
were donated by Non-Governmental Organisations (NGOs). He also said the types
of the vehicles were expensive to maintain.
"During holidays
and festive seasons we get so busy that even the available staff become overwhelmed.
The hospital mortuary is not in the best of conditions and many people cannot
afford the services of private funeral services providers like Nyaradzo.
"The district's
health amenities are short-staffed so we appeal that the training and
recruitment of nurses and nurse aides be done at local level. Locally-recruited
staff would be better positioned to care for their own people and the
understanding would be greater. The general feeling for now is that many of the
staff members are from Mashonaland provinces, and they are not well-conversant
with local languages," he said.
The parliamentary
portfolio committee proceeded to Lupane where similar grievances were heard. Blame
for most of the service delivery shortcomings was laid on the government
doorstep, with many participants saying election promises were never fulfilled.
The Lupane
General Hospital project, which was initiated back in 2006, still remains
incomplete at foundation level, with other structures that are at an advanced
state of completion already showing signs of decay.
"The situation
of the hospital is similar to that of Ekusileni Hospital which was built by our
father Dr Joshua Nkomo. It was completed more than 15 years ago but up to now,
it is still closed because of selfish political reasons," one Lupane resident
said.
It was also
revealed that St Luke's Hospital was not only serving people of Lupane but
others from such malaria-prone areas as Inyati and Tsholotsho and Binga.
In all six
centres visited by the portfolio committee, local authority executives
complained that government had largely neglected the health sector, with
council clinics having to sustain themselves on the meagre Result Based Fund
(RBF)
Umzingwani Rural
District Council (RDC) Chief Executive Officer, Ndumiso Mpofu said much needed
to be done to fight diseases in light of the proliferation of septic tanks in
highly populated areas.
It was clear,
however, that most people were worried by the unavailability of medicines, inadequate
manpower in hospitals and lack of proper equipment in hospitals.
Others also
lamented the new US dollar payment demands being made by pharmacies, saying many
people could no longer afford critical medication as a result.
At Mpilo
Hospital, a participant said the 2019 budget should channel as much resources
towards the fight against diabetes as towards the fight against HIV and Aids.
It was also
noted that the government directive for free maternal health services was
putting severe strain on the hospital, with many pregnant mothers running the
risk of infections as they have to sleep on the floor due to shortages of space
and beds.
People said insufficient
staff also meant more strain on the available nurses and doctors, with patients
receiving below optimum care as a result.
The portfolio
committee's acting chairperson, Dingilizwe Tshuma later told this publication
that government ought to meet the 15 percent budgetary allocation target for
the health sector as espoused by the Abuja Declaration of 2001.
Government has
been giving an average of between six and seven percent of the country's money
to the health sector. Many of the country's public health facilities are
rundown as a result, with overburdened nurses and doctors having to do with
little or no medicines.
Government
officials and other rich people do not use the country's hospitals, choosing to
fly to South Africa, Asia and Europe for their treatment.