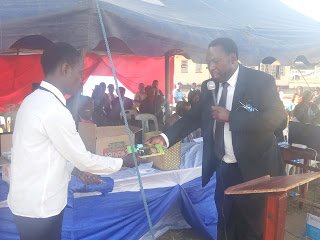 …launches
Professor Magwa award
Founding
Reformed Church University (RCU) vice chancellor Professor Wiseman Magwa has hailed
Tugwane High School for organising a careers day for its pupils and other local
school saying the event was an eye-opener to pupils.
Speaking
after a careers day programme held at Tugwane High School in Masvingo South,
Professor Magwa, who is now the acting director of the Midlands State
University (MSU) Language Institute (MSULI) revealed that careers day programmes
were critical in helping pupils choose the right career paths.
"Exhibitions
like careers day are important and should be held regularly in schools because
they open the minds and eyes of our pupils to know about many other professions
other than being a teacher, policemen or a solider.
"I
am glad that 22 organisations that are here gave pupils insights into various
careers options available," Magwa said.
The
decorated scholar, who has more than 100 publications to his name, donated some
of his books to schools and local community leaders who were present.
He
went on to launch the Professor Magwa Award for Best Shona Pupil at all levels
at Tugwane High School and Garai Primary School where he did his primary
school.
At
the event, pupils had the opportunity to come face to face with people in
various respectable professions and company representatives who shared
information on recruitment processes as well as qualifications required for
specific programmes and opportunities.
Tugwane
High School head boy Heinrick Milanzi said pupils were happy that they had been
given an opportunity to meet people who matter on the job market.
"We
want to thank our school head and all the staff for organising this day for us.
We are now equipped with information concerning the qualifications required for
one to qualify for certain opportunities. We learnt a lot," said Milanzi.
Tugwane
High School head Robinson Matsilele said the careers day had played a pivotal
role in giving pupils direction and encouragement.
"When
the District Schools Inspector (DSI) informed us that schools are now able to
organise their careers day in their zones, we decided to act. Children need to
be given direction especially at a time like this when the economy is difficult,"
said Matsilele.
The
event was attended by representatives from organisations including TellZim News,
Zimbabwe National Army (ZNA), Masvingo Teachers' College, Masvingo Polytechnic,
Masvingo City Council, Great Zimbabwe University (GZU), Pick n Pay and Environmental
Management Agency (Ema).