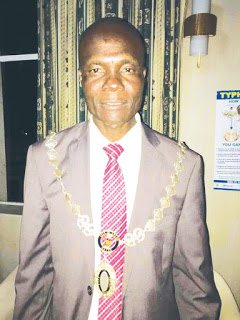 Gweru mayor Josiah Makombe
Gweru
City Council workers on Monday
threatened to go on strike soon if their demands for urgent salary adjustments
are not met, TellZim News can report.
The
workers are demanding an 80 percent salary increment or more, arguing that the
inflationary economic environment has eroded their buying power.
Speaking
at an engagement meeting with members, Zimbabwe Urban Councils Workers Union
(ZUCWU) secretary general Kudakwashe Munengiwa said he hoped council will
fulfil its promise to adjust workers' salaries.
"We
took our issue to the negotiation table with the relevant authorities and they
told us we need to wait for the approval of a supplementary budget by the Ministry
of Local Governance.

So we asked while
we wait for the budget, can't we be offered something for the time being so
that we can cater for our families?
"I
am happy because we have agreed on this issue together. The war here is not
between us and any councillor or management member. The fight is between us and
hunger. When our hunger issue is sorted first, other issues that need further
engagement will then follow," said Munengiwa.
ZUWCU
branch secretary Ambrose Hwande said council was supposed to put forward an
alternative wage proposal on the negotiation table rather than try to bargain
on nothing.
"Council
should put something on the negotiation table so that we can see if we will
agree to it or not. It seems they have completely nothing to offer," said
Hwande.
He
said other local authorities were giving their workers increments before the
approval of supplementary budgets.
"Some
local authorities are giving their workers increments already so we don't know why
Gweru wants to hide behind that supplementary budget thing.
"We
have decided to take other measures because they were proposing to come to us on
30 August but how will we cope for that long? We have agreed to continue to
meet as labour and if council fails to give something satisfactory, we will
resort to other measures," said Munengiwa.
A
council worker who refused to be named said council was also supposed to
address the issue of salary grading as worker were being paid using an
unjustified system.
"The
gap between grade 7 and 8 is big and we need them to deal with it because it's
affecting us. Let's compile petitions in our different working sectors as this
can help us because the difference gives a gap of $700-$800 dollars between
salaries," said the employee.
Residents
fear a calamity should workers go on strike in a city which is already
grappling with arguably its worst service delivery record.