TellZim Reporter

Quench Systems, a Masvingo-based ICT corporate, has remained resolute in
providing Information Communication Technologies (ICT's) in Masvingo after

adding to their stock the latest *Interactive Touch Panel* in their stock
of advanced technological products recently.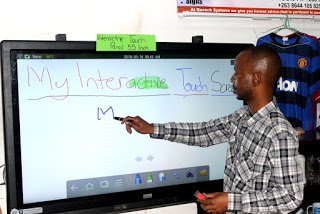 Edmore Mkwenje demonstrates how the interactive touch screen works
Showcasing a 55-inch interactive touch panel in his shop, Quench Systems
Chief Operations manager, Edmore Mkwenje said it has always his
organisation's mission to supply the best to their clients and above all
being honest on their abilities to their customers.
"Much has been happening in the education sector ranging from primary to
secondary in terms of trying to engage the pupil and making the class more
participatory, relaxed and interesting. This has seen the advent of the
chalkless, interactive white boards and now this latest technology, the
interactive touch panel.
"By realising the importance of these developments in the ICT sector and
their benefits to quality education, we saw the need for us to sell this
latest technology to our clients here in Masvingo so that they do not
complain that quality advanced products are found only in Harare," Mkwenje
said.
"Among the tasks one can do with the interactive touch panel is monitoring
your pupil's participation while mobile, presenting slides from your phone,
tablet or laptop and saving screen shots of notes you would have taught for
the benefit of students among other interesting tasks," added Mkwenje.
Being driven by their motto, *At Quench systems we give you honest advice
that is pertinent to your situation even if it means not selling you

anything at all*, Quench Systems has proved unstoppable not only in ICT
business but the media fraternity as they scooped a whooping first prize
award at the recently held 2015 Lowveld Agricultural Show.

—

Tel : +263 39 262 401
Website : www.tellzim.com
—– Message truncated —–



—
Tel : +263 39 262 401

He who said it can not be done must not disturb the one doing it!