Residents in Masvingo have expressed dissatisfaction with the Zimbabwe Broadcasting Cooperation's (ZBC) content saying they will never pay radio and television licences until the country's sole broadcaster transforms itself into a true public broadcaster.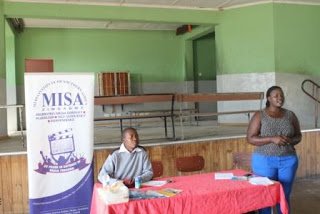 Jacqueline Chikakano (right) giving presentation
All residents who converged for Media Institute of Southern Africa (MISA) meeting in Masvingo's high density suburb of Rujeko at Rujeko Hall today unanimously agreed to boycott payment of broadcasting licence before signing a petition demanding an immediate transformation at ZBC.
MISA legal officer Jacqueline Chikakano gave a presentation on how a true public broadcaster operates.
"The public broadcast should address, all languages, it should not be biased in reporting, it should also accommodate everyone including those who physically handicapped" said Chikakano.
"Our public broadcaster should come up with a code of conduct that will be made known to everyone in the country", added Chikakano.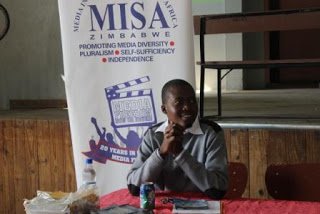 Misa Masvingo chairman Golden Maunganidze following proceedings
some of the residents who attended the meeting
Residents said they were now relying on DSTV to get information on current affairs in the country.
"ZBC is only concentrating in Harare. We are now opting for DSTV where l can have a variety of channels ranging from sport, entertainment and news," said a woman who attended the dialogue.
Evermore Mugumbate said the public broadcaster should produce content that will meet the interests of people ranging from language, and the education of children.
"The content that we expect should accommodate all the official sixteen languages in the country, so that everyone is equally accommodated.
"It can also copy from South Africa, where children are actually benefiting from educational programmes that are broadcasted on television" said Mugumbate.local