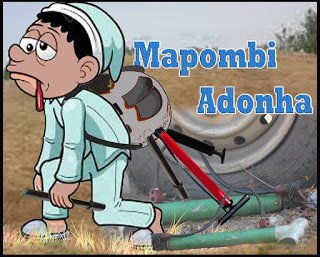 Chisingaperi chinoshura. There are those who think
that power will make them invincible that not even death can touch them. They
immortalise themselves and the gullible will worship the ground they walk. For
mere mortals like Mapombi, we believe there is a God in heaven and ndiye chete
watinonamata. Jehovah ndiye chete anopa upenyu kwete zvekuti ndinosvika zana
remakore kana kuti 2030 ndenge ndichipo. Unenge uripo wakamira saani iwe
Dambudzo kana uchiona Uncle Bob wakatadza kusvika zana ravaitarisira.
Mapombi heard that kune vamwewo vari kuda kuzviona sezvimwari
zvepano pasi just because they control the means of production. These are the
cartels who are bend on tarnishing the image of our dear leader. This is our
country and we will not tolerate racist behaviour on our people. If you are
fortunate enough to do business in our country because our President says we
are open for business you need to toe the line kwete kudzvanyirira varidzi
venyika. I hear fuel yanetsa even though yakakwidzwa price and these service
station owners wakutoda kunamatwa kuti uwane fuel. Mapombi was so hurt when he
saw his fellow country man being mistreated by their own at Kyle Service
Station run by this Edwards fella.
Seeing black people being used to supress others by
these rich white folks is disgusting to say the least. Unoona Edwards
nekamukadzi kake wachiudza our hardworking motorists kuti fuel yapera but when
their white friends come, you see them fuelling their cars and you wonder
yabvepi fuel yacho. Those who control the fuel queues wakutozviona sevakakosha
stereki patonaz wachishandiswa with these white folks. Hatidi izvozvo imi vanhu
vaEdwards. We know you are against our dear leader ED and we will deal with you.
Ipai vanhu fuel kusvika yapera kwete kuita sabotage. You know very well that
our country has no electricity but you deny people to fuel their generators.
Hee toda tsamba and shop licence kuti tiise fuel mugenerator munopenga here?
President ED does not like that and you STOP IT. Musada kutiendera kumhepo.
Kudenga kuna Mwari and one day tese tichafa. Kana Mugabe akafa kuzotiwo imi
henyu vana Edwards?
Tsika dzedu dzinoti afa anaka so I will say Rest in
Power Cde Bob and may God do you justice.

Being a God-fearing woman, I will not judge
our dearly departed Cde Bob. The Bible tells us not to judge others for we us
not to be judged in return. I hope you will journey well to the afterlife
Gushungo. Shumhu yenyu ine munyu munowana yakakumirirai because there are a lot
of people who are cursing your dead body over your cruelty. I guess in life we
need to surround ourselves with people who constantly remind us that we are
only human because Mugabe saw himself as a larger than life character who was
untouchable even by death. Mugabe lost the way and his goons who are now
calling themselves the new dispensation cheered him on. When Mugabe unleashed
violence on his people, no one stood up to him and told him he was wrong. His
goons kept telling him he was right even if he was wrong. Mapombi equally
blames the people who surrounded Mugabe for every atrocity committed against
the people. All they wanted was power and they did everything to keep it. If
anything got in their way to power they dealt with it ruthlessly. Elections
were rigged and people were killed or brutalised but still they cheered Mugabe
on and told him he would rule even from the grave.
We do not know if death is enough punishment for the
crimes which Cde Bob committed while in office. Hapana akamboenda kurufu
kunoona kuti kwakamira sei odzoka oudza vamwe. Maybe kurufu kunonakidza
kudarika kutambura kwatiri kuita pano pasi. It is by God's design that you will
only know about the afterlife when you die and you will not get a chance to
come back and tell others. But I will miss Bob because he was a great dictator.
He was a no nonsense man and hakuna aisamuziva. He was ruthless to his people
but he also fought for their empowerment albeit pahukama hwavo. Even the
'almighty' Bush and Europe knew about our dearly departed former president. The
Donald was told to blow his trumpet in a musical way kkkkkkk asi Mugabe so.
Hanzi you are not a goliath and Zimbabwe will never be a colony again. Ave
atque vale, Cde Bob.
But makudo ndemamwe chokwadi kkkkk. When Mugabe was
kicked out, he was very bitter and vowed to vote for kedu Chamisa. Wati kufara
kwakaita Chamisa here and he forgot all the bad things done to him by Mugabe.
Zanu PF yakasvika pakuramba Mugabe and stripped him of his comrade title. And
we heard Mugabe snubbed Heroes Acre burial before his death but iye ndiye
wekumboti the dead cannot decide where they are buried kkkk. Munhu wese
pachikomo uchida usingadi. Kana wakambomanikidza vamwe iwe wakoshei. Mapombi
will be there to bid farewell to Cde Bob. Maiva henyu nehutsinye but at least you
left your people with land. Even in death Mugabe is still causing a lot of
trouble. There seems to be a deadlock on where he will be laid to rest. The
Mugabe's should demand an apology from Zanu PF because mwana wavo akatukwa
nevanhu ava after all he was by far a better leader than zvatiri kuona izvi.
Factions are
now playing out with Mugabe's corpse. Rambai makadzvanya vakomana, ED and his
team should not be given an easy way out. Kana vakamuramba vakamutuka why
should they want to be associated with him now. Hanzi his grave is already
there saka tinozoisa ani kkkkk siyai rakadzaro ko mamboti mapera kufa here.
Handiti zvikaenda nepamwe tinogona kungotuma imwe delegation to China. Asi
vanhu havana tsitsi ndakazonzwa vamwe voti Singapore inenge inoburitsa maresults
ari nani kkkkk. Get well soon generari VP wedu Chiwenga hameno kana shoko
rakasvikawo kwamuri ikoko kuti Gushungo hakuchina. You can rest assured kuti
kana Mwari wakaita kuda kwavo we will not leave you in foreign land, we will
always bring our people home. Mugabe died in a very beautiful hospital vakomana
and I wonder why these guys don't emulate such services and bring them hope.
Build those hospitals here kani vakomana munoti kana ini Mapombi ndikarohwa
necholera from eating mabanana akaora aya ndoponerepi. Ndingagonawo kuzoenda
Singapore here semi? Mwari ave nemi varume nevakadzi imi.
I have said enough but before I go I just want to let
Zimbabweans know that there is a vacant post now waiting to be filled.
Tingasvikepi tisina former president nhai hama vadiwa kkkkk. I am not saying
anything about ED but munogona kungopa that title to Chamisa because kanoda
power kamufana kaya. I heard kari kutodawo kutamba a leading role parufu ipapo
but let me warn you young man that Mugabe has always been Zanu PF and even in
death is still Zanu PF. Chinhu chavo regai wavigane. I wonder how Gucci Grace
is feeling. Ko former VP Mphoko wakanzwawo here about the news, I can imagine
him crying kkkkk. Ikozvino handidyi mabanana akaora ndinonodyawo nyama kurufu
ikoko. Mboko imboko.