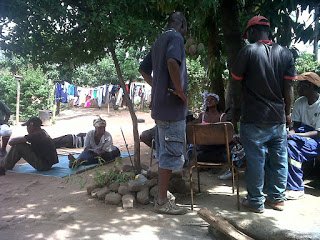 MASVINGO –
As
the price of beer gets higher and higher on the retail shelves, many residents
are turning to the traditionally-brewed ndari to keep entertained.
Ndari,
which is predominantly brewed and consumed in rural areas, is colloquially
referred to as 'seven days' in reference to the number of days that the brewing
process takes.
In
Masvingo, the brew is popular in poorer suburbs like the old 'Kuma R' part of
Mucheke A where some households have made the brew their regular business.
Though
illegal, the opaque brew is also being peddled at other places like Chitima
market and Exor service station.
One
imbiber said he could no longer afford the conventional alcohol being sold in
shops and had therefore made ndari his new favourite drink.
"It's
cheap; you can get a good day's drink for a dollar or two. Many people had been
brewing and drinking it for years here in town even before these price
increases but consumption is now rising. A two-litre container cost $4 while a
1.25-litre container of Chibuku costs $7," said the imbiber.
Another
elderly drinker said she took the traditional brew not necessarily because she
could not afford the regular brews but simply because she liked it.
"It's
our own beer which speaks to us as a people with a culture. We could buy Super
or even clear beers if we wanted, but we chose this," she said.
Chibuku
and Super are opaque beer brands produced by Delta Beverages, with their
ingredients and brewing processes borrowing heavily from ndari.
Masvingo
City Council seems to have failed to reign in on the illicit brew, with other
supplies said to be transported from rural areas.
Due
to absence of modern standards in its brewing process, the alcohol content in
ndari is never measured and there are other health concerns associated with the
beer due to the not-so-hygienic conditions under which the brewing is done.