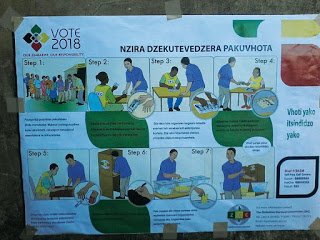 Voter education material in Chipinge

Knowledge Mhlanga
CHIPINGE – Many activities pointing to robust voter education are happening in the district, with diverse materials educating the public on the July 30 harmonised elections now a common sight.
The streets and buildings are plastered with campaign posters especially of the two dominant political parties, MDC Alliance and Zanu PF urging the people to vote.
The Zimbabwe Electoral Commission (Zec) has also deployed personnel that are travelling even in the countryside giving free information on the elections.
They are also handing out fliers with information addressing some of the frequently asked questions regarding the first poll to which is to be held using a biometric voters' roll.
At a funeral service for Batsirai Mlambo Magaisa in Mwazoonei Village, Ward 17, under Chief Musikavanhu last week, Zec agents were given an opportunity to address the gathering and answer some questions.
Some voter education material written in the vernacular Ndau can also now be found everywhere, with the messaging mainly being centred on what is and what is not required on voting day.
Over the past weeks, teachers and other civil servants have been undergoing training so that they will be able to work as the official Zec poling agents.
Social Media platforms such as Facebook pages and WhatsApp are also proving to be important platforms to spread voter education messages.