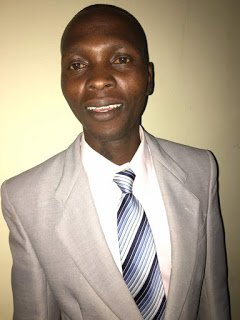 Cllr Doubt Ncube
Itai Muzondo
GWERU – In a notable tale of grace to grass, former MDC-T Gweru Urban MP and senior official in the MDC Alliance; Sessel Zvidzai's gardener is now City of Gweru Ward 3 councillor.
Doubt Ncube, who is 35 years of age, took his oath of office alongside other councillors on Tuesday following his victory over five other candidates in the July 30 elections.
He told TellZim News that though his social status has improved, he will continue to serve as Zvidzai's gardener.
"I met Zvidzai after I had just joined the party in 2002. He is like a father to me and has been pivotal in my steady growth in politics. I will not leave him unless he decides to wean me off," said Ncube, who still stays in the cottage at Zvidzai's Delisford home.
He said he was grateful to the opposition alliance for affording him a chance to rise through the ranks.
"I am happy with how the MDC Alliance has supported me until I got to this stage today. I am a person many people may not know but I have risen through the party ranks in a transparent manner.
"I joined MDC-T in 2002 as an ordinary member and in 2003 I was elected youth chairperson for Ward 3. It was in 2010 that I got elevated to be district deputy youth chairperson for the party's main executive. Promotion came again in 2012 as I was made a district portfolio member; a position I still hold to this day," Ncube said.
He said his experience was a clear testimony that limits only existed within one's imagination and that with focus, humility and hard work, anything could be done.
"Positions are not for the elite, everyone has potential as long as they have a vision. Being elected from the grassroots gives me confidence that I will deliver. Those in power are there to serve the interests of the grassroots.
"Women, in particular, are fearful of contesting for decision-making positions and I think there must be a shift in focus. Of late, the youth have done much for themselves so women should do the same," Ncube said.
Contacted for comment, Zvidzai was full of praise for his employee.
"People from the ward elected him through the capability he showed them. I am confident of his abilities, the ward believes in him as well and we wish him well. He has a lot of potential as a leader," Zvidzai said.local