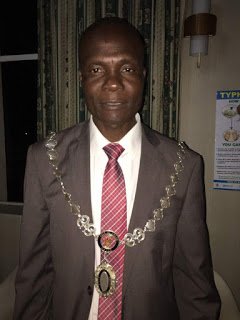 New City of Gweru mayor Josiah Makombe
Itai Muzondo
GWERU – Ward 2 councillor, Josiah Makombe on Tuesday emerged as new City of Gweru mayor following the swearing in ceremony for the new councillors at town house.
Makombe, who won the post uncontested, replaces Charles Chikozho and will work with Ward 5 councillor, Cleopas Shiri as his deputy.
Ward 13 councillor, Catherine Mhondiwa is the only female in the 18-member all MDC Alliance council.
Speaking to TellZim News, Makombe said he wished to make a difference in addressing traditional issues that have always plagued Gweru.
"I am not going to implement any new idea before solving the traditional problems that have always affected the city. My main goal is just to make sure that council delivers.
"The old problems I am talking about are roads, water woes, malfunctioning traffic lights and broken street lights. To solve this, I will always seek the advice of my predecessors and will encourage team work among councillors so that everything we agree on is beneficial to residents," he said.
This publication also caught up with Shiri who said he wished to help council block revenue leakages that are hindering better service delivery.
"There are several leakages that I wish my fellow councillors to unite and close for the benefit of residents. These are mainly found in the billing system.
"Besides these, it is my wish that City of Gweru attracts foreign and local investment. Partnerships should be built with organisations that can help us to improve service delivery," Shiri said.
Also present at the swearing-in ceremony was Gweru Residents and Ratepayers Association (GRRA) chairperson, Cornelia Selipiwe who called for transparency and hard work from the new councillors.
"We hope these councilors will be there for the residents. We want to see fruitful debates in the chambers and we want to see resolutions coming to fruition. As residents, we no longer want a council that puts selfish interests ahead of the city's common good," Selipiwe said.local