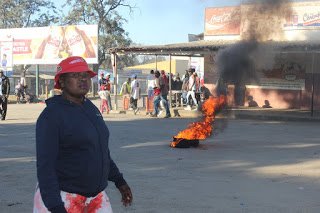 Itai Muzondo
MASVINGO – At least six human rights activists were arrested in Masvingo for allegedly taking pictures and inciting public violence during the 'Shut Down Zimbabwe' demonstrations and stay away last week.
The six are David Kwangwari, John Gondo, Godwin Masiya, Frank Makweza, Amos Mandinetsa and Last Mugabazi. They were represented by the Zimbabwe Lawyers for Human Rights (ZLHR) lawyer Collins Maboke.
July 6, 2016 marked the beginning of 'Shut Down Zimbabwe' protests and saw citizens protesting against a number of issues, among them President Robert Mugabe's policies, corruption, the imports ban instrument, the-ever increasing police roadblocks, among a myriad other problems the ordinary people are facing.
The six protesters have since been released.
"The six (from Masvingo) were released on 7 July 2016 after we challenged remand and the court openly noted that the peaceful protestors have no case against the law," said Maboke.
Prior to the protests, on July 4, 2016 police in Masvingo stormed a Civic Society Organizations (CSO) meeting at New Gate Lodge and arrested four human rights defenders Brighton Ramusi, Ishamel Kupfuwa, Tatenda Maposa and Johannes Muzenda who were later released.
"We had gathered to mobilise and further encourage locals to participate in the peaceful 'Shut Down' protest. We were taken by surprise when police apprehended us for no tangible reason. We were released only after a human rights lawyer, Martin Mureri intervened and found that they had no charge against us," reported a victim, Brighton Ramusi.
Through his social media page, #This Flag leader; Evan Mawarire said when people combine for such a call, government should respond by inspiring, motivating and reassuring instead of assaulting, arresting and threatening them.
"The consistent message with the shutdown is no violence. Don't insult, don't incite anyone. Defend yourself if you must but don't attack otherwise it takes away the message. I have heard reports of minimal violence across the country. It's something we shouldn't really do as Zimbabweans," Mawarire said.
In an interview with TellZim News, #Tajamuka Movement spokesperson; Promise Mkwananzi said they are a peaceful movement with no agenda to incite violence.
"We are a peaceful movement. We neither incite nor encourage violence but rather call for peaceful protests until government addresses our plight. To our followers, we only communicate via our Facebook page and from that page, so those who impersonate us intend to destabilise our progress," Mkwananzi said.
Added Obey Sithole, a member of the Tajamuka Movement, "We #Tajamuka youths are not thugs as one overzealous young man; Psychology Mazivisa chose to define us. We are a team of committed, peace-loving youths united in our quest to free ourselves from the hardships that we face today at the hands of the ruling regime. With or without threats, Tajamuka…the message is loud and clear."
In solidarity messages, Masvingo's CSOs have pledged to rally behind fellow Zimbabweans in protesting against bad governance and urged police not to jeopardise the peaceful protests.
"We have joined hands with other citizens in nationwide protests against corruption and bad governance. Police should however desist from interrupting the peaceful demonstrations because people won't turn violent unless they are provoked as was witnessed at Mucheke Bus Terminus on Wednesday," wrote Community Tolerance, Reconciliation and Development Trust (COTRAD).
"We are fully behind all movements fighting bad governance in Zimbabwe. We however do not encourage residents to turn violent. Let's protest peacefully and in such a way, we are our own heroes," wrote Masvingo Residents Trust (MRT).
Added Gutu United Residents and Ratepayers Association (GURRA), "We support these peaceful protests. Residents have always felt a need to rise against the repressive and unsupportive government and only lacked coordination."news
—
Tel : +263 39 262 401

He who said it can not be done must not disturb the one doing it!