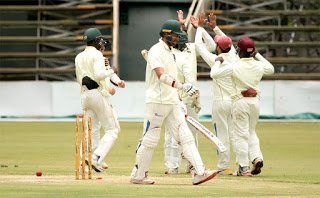 Blessed
Chauke
MASVINGO- Since their return to domestic cricket
after a long sabbatical, Masvingo's representative in the cricket league,
Southern Rocks, have announced their presence with a bang after bagging the prestigious
Logan Cup with a game to spare.
The Rocks registered three straight
wins which took them to pole position in the five team league and ensured
silverware for their side.
Rocks, who are surely on a rollercoaster,
are now on 30 points, 15 points clear of second placed Eagles.
In their run to victory, they defeated Eagles,
Rhinos and Tuskers who have also played the same number of games (3).
Southern Rocks head coach Shephard
Makunura lauded the performance of his players since their return to domestic cricket
after 5 years.
"It is definitely a five star
performance considering that we only came back into domestic cricket this
season after a long absence. The team has done extremely well and it is pleasing
that it shows how dominant we have been," said Makunura.
Makunura said his team was not in the league
for the sake of fulfilling fixtures only but to win trophies.
"Very exciting and this foretells a
bright future for cricket in Masvingo. It is a big statement, we are not here
just to make up numbers but to also win trophies'', said Makunura.
Makunura mentioned that the youngsters
contributed a lot since they were putting in solid performances and showing off
good skills in the field of play.
"Youngsters have shown some good
promise, Gabriel Jaya did well in his debut game scoring 40 odd runs.
"Nkosikathi Nungu did well although he
has not featured for us at the moment, but he has shown us that the future is
bright and these are just but a few exciting prospects for the Rocks," said Makunura.

He also said that due to dangers posed
by Covid-19, they had to adjust to the abnormal and move away from the norm
where the environment was conducive for the players and officials.
"We had to move away from the norm and
adapt to the prevailing environment because of the pandemic. All our previous
matches have had to be played in a bio secure bubble and that means players and
officials have had to move away from their families for extended periods of
time," said Makunura.
Last games will be played from March 30
to April 2 and Rocks will take on Eagles and Mountaineers
against Tuskers.