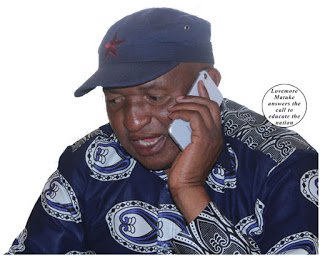 Staff Reporter
Unlike many politicians who join the government with a selfish objective of squandering State resources without shame, Lovemore Matuke, who is the Deputy Minister of Labour and Social Welfare, has a different script altogether.
As a top government official and senior Zanu PF member, Matuke has managed to lead an exemplary life-style and has established a state-of-the art private school which has set new standards on how secondary and primary school pupils should be educated.
Matuke is the most immediate former Member of Parliament (MP) for Gutu Central and the work he has done in that regard is there to see.
Matuke, who is the Chief Executive Officer (CEO) of Sandon Academy, said he wanted to see the college growing to become the best primary and secondary education centre of excellence in Zimbabwe.
"I did not look for an urban settlement or leafy suburb to establish a school but as you can see, pupils from all over the country are coming to Gutu to enrol with us. We are just a new kid on the arena but already our impact has been felt all over the country. I do not doubt that constructing this facility was a calling and I am sure generations after another will benefit from this project," said Matuke.
The soft-spoken Matuke, who has a strong passion for the development of the country's education sector, said it was high time that private schools set standards that allow parents to get the full value for the money they spend educating their children.
"Parents must see the value of sending their pupils to our schools. We must meet international standards so that in the near future, pupils should be flocking from the SADC region to enrol with us," Matuke said.
Sandon Academy is a registered centre for both Zimsec and Cambridge examinations and so far, the school has recorded 100 percent and 95 percent pass rate in 'A' and 'O' level exams respectively.