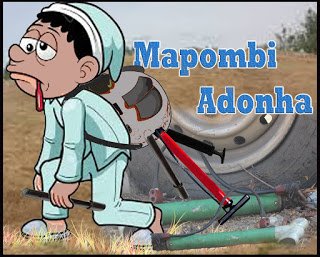 Cdes, you must stop this madness. Stop it!
Mapombi will forever remain a gentleman – handivanzi. You have to stop this corruption madness. Mapombi is very sure the late Vice President Simon Muzenda is turning in his grave – Nhai mbuya Nehanda Nyakasikana zvichazova zvariniko…nyika vakatora vakagovana pahukama hwavo isu vana vemutema tichidya nhoko dzezvironda. Chero minda yenzimbe vari kungogovana pahukama hwavo!
But dzimwe nguva kupenga kwakanaka because haunei nezvakawanda – all you need is some rotten bananas and a dirty place like Dr Grace Trading Market to sleep. Ko kutyei munyika yakawana independence 36 years ago. O-oh yes we are now independent to do corruption and all sorts of vices and go scot free as long as card remusangano riripo chete. All you need is to flash the party card and you will get away even with murder. Kikikiki asi vamwe vakaponda vanhu in 2008 vava kunzwisa tsitsi vakomana! Mapombi akange nani – kupenga kusvika pakurasa nhumbi here veduwe? But it's fun because these guys will never learn munoramba muchingoishandiswa vamwe $15 billion vachingodya.
By the way, any news about the $15 billion that disappeared from our diamonds? You mean the Head of State and Government, Commander of the Defence Forces, the Chancellor of all universities who is also the Zanu PF's First Secretary and President of the Republic of Zimbabwe, His Excellency President Robert Mugabe, has no clue whatsoever about the $15 billion whereabouts??? Sorry to bore you with these endless titles but muchazvinzwisisawo kana mava kutonga. Asi mari yakaenda kupiko iyi? Even the President doesn't know where the $15 billion is – haaa zvinoshamisa izvi. Please Prophets Magaya, Makandiwa and Angels help us on this one – please don't even attempt to tell us kuti the money disappeared because of corruption.
Iyo nyaya yecorruption yanetsa vakomana. Mapombi heard the offer letters for the sugarcane farms are now out. At least 90 offer letters were in gogo Mahofa's office by the beginning of this week. Mapombi also heard that more others were expected before week end so that the majority of the 138 farmers on waiting list get the offer letters.
Mapombi however, heard some allegations of corruption ipapo – hanzi hama dzema shefu edu dzange dzisipo pawaiting list were the first to get the offer letters. Yes; the sons and daughters of those in power had their offer letters processed first before the 138 farmers that have been on the waiting list since 2012. Haa murombo munhu vakomana haavigwe asina kupfeka. Bva imi munazvo ndimi henyuzve mokora? Chidyai kana kana mazosiya mozopawo varombo.
Mapombi is getting a lot of detailed information these days – kupota uchienda kuBenjamin Burombo Building kunobatsira. Mapombi wanted to see gogo Mahofa to try and negotiate for a better accommodation because kwaDr Gire hakuchaita vakomana kwava kuti kutonhora then kunhuhwa.
While busy looking for gogo Mahofa's office in the first floor kusaziva kuti office yava paground floor, Mapombi heard some disgruntled guys saying all sorts of names to gogo Mahofa. Some of the words were unprintable accusing her of corruption. Mapombi heard mwana wavo akatowana munda wenzimbe, waOppah and this other guy Pedzisai anoita zvekubikira president uyu hanzi they all have offer letters even though they were not on the waiting list – ungavadii? Power is sweety. Too sweet zvekuti one can even forget the other Cdes he or she was with in the trenches kuhondo. Chinobhowa ndechekuti vaiva vatengesi ndivo vave kubenefita vakarwa hondo tichinyimwa minda yenzimbe.
But Ngwena ndomahwani manje – Mapombi heard he told maWar Vets kuti there is nothing special about you Cdes that you need preference paminda yenzimbe. War vets were told in the face that they will go the same process inoitiwa nesu vana Mapombi takazvarwa zuro uno. Kkkkkk nhaka tichaipiwa minda yenzimbe isu magava mwedzi maWar vets akati vavava. Kkkkk how time flies and how things change – iyezvino War vet naMapombi same/same – tangofanana hapana zvekuchativhairira kuti hee takarwa hondo hee this and that. Zanu yakuchepesai varume. Chete makaroiwa newakafa dai ari mupenyu ainzwa tsitsi mukarutsiwa. Mapombi just pray that the wave of corruption iri kubata vanhu iyi hairambe iripo or else tingaita kufarira n'anga neinondobata amai.
Anyway, shoko harivhikwi maCdes and kuna gogo Mahofa ngoma ndiyoyo – chawawana idyai nehama gogo vatorwa vane hanganwa. Asi kana mapedzawoka kupa hama dzenyu mochindozororawoka timbopawo vamwe vachinesimba hofisi. Munoda kutonga muri muwheelchair here nhai gogo?
Ahh by the way it's now lunch time – regai ndimbodya hangu my rotten bananas ndakamirira kutsvaga chibage chekukanga maputi. Kana mukadarika nekumusha please tell them kuti Mapombi is still looking for accommodation and ari kukanga waya heavy. Mboko imboko!. Mapombi
—
Tel : +263 39 262 401

He who said it can not be done must not disturb the one doing it!