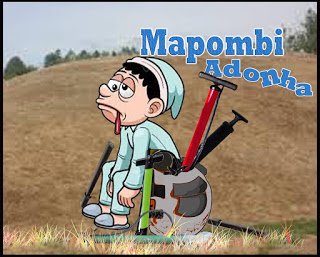 What is
this I am hearing about the Chinese vaccine nhai varume?
What I want to know is whether the Sinopharm and Sinovac vaccines are safe or
not. Mapombi is very emotional about this issue because I received my first jab
of the donated Chinese Sinopharm vaccine and am waiting to get the second jab
very soon. Eheka isu takabaiwa the donated ones not dzakazotengwa idzi kkkkk.
While I am waiting for my second jab I hear the World Health Organisation (WHO)
is investigating the Chinese vaccines. Saka makambovaregererei vachitipa those
vaccines if you were not sure? What is wrong with you guys? Nyaya dzemavaccine
dzava more confusing but vanhu ndeva Mwari. We just have to find comfort in
that simple fact. But why does Zanu PF blindly trust the Chinese like that. If
Mapombi dies because of the vaccine chipoko changu will haunt Zanu PF for life.
Hokoyo Mnangagwa hokoyo kkkkkk.
I do
not want to lie to you dear readers but the truth of the matter is all is not
well in Zanu PF. My sources tell me that Mnangagwa is sleeping with one eye
open because the support seems to be shifting from him and going towards
Khedha. Khedha akuda kutotiza nechinhu and the grassroots are saying he is a
better devil. Benzi ibenzi hama dzangu and hakuna riri nani. Chiwenga and ED
are the same man and replacing one with another will not yield the intended
result. As long as Zanu PF is in charge nothing will ever change. How many of
you are saying Mugabe was better than ED? But pakapinda ED everyone was saying
heee ED is the real deal but he turned out to be a real dambudziko. Everyone is
now being reactionary hanzi dai tisina hedu kubvisa Mugabe kkkkk. Mugabe was
better in what way nhai imi vanhu? Most people fail to understand that Zanu PF
is a system which is deeply entrenched and even if you take Chamisa to lead it
today he would never change the system but the system will change him.
The
simple fact of the matter is that we all have these brilliant ideas until we
join Zanu PF. Look at Mthuli Ncube for example, he had all these brilliant
ideas on how to transform the economy but when he joined the system his first
move was to rob us of our money. A lot of people no longer recognize the Mthuli
Ncube who was out of government and the Mthuli they are seeing now. Well, the
system changed and swallowed him. His ideas no longer matter and the only word
that matters is of Zanu PF. Mthuli has made our lives a living hell and he
keeps telling us that things are getting better. I don't know which world
Mthuli is living in. The only problem is that these guys are surrounded by
thieves and looters which makes it difficult for them to see beyond that small
circle. They think that everyone lives that same life as theirs and see poverty
as a sign of weakness. We are poor because of Zanu PF so for any meaningful
change to take place, we need a new system altogether and this means Zanu PF
has to go, no I mean swop places with MDC Alliance kkkkk. Ukati Zanu PF must go
unoswera wasungwa wobhadhariswa mazimari like zviri kuitwa opposition
activists. Parikurohwa fund raising yakasimba apo.
But to
all those who are being persecuted I say do not despair, the misery that is
upon us is nothing but the passing of greed. Like I said earlier nyika yakuda
kutonaka iyi. Zanu PF yakuda kuvhunura like it did last time when they deposed
of the G40 faction. Matemadanda uriko here uko. Heads are going to roll very
soon and rumour has it that Chiwenga is fed up with corruption by those who
allege to be close to ED. They think they are above the law and have a carte
blanche to do whatever they want. VP Chiwenga, Mapombi is told, has warned ED
that the corruption being orchestrated in his name will cost the party dearly
and I can tell you that interesting times lay ahead. Mapombi will be there
watching from the terraces ko tingadii. Hanzi panotungana dzemudanga ma1 anenge
atanga. Ngazvibayane ikoko kusvika General Valerio Sibanda watora chinhu. I
hear he is the most sober person out there and with him at the helm todya uchi.
Nyika inodirwa sugar iyi varume and tinorohwa nembovha yemufaro mangwanani
ngwanani. Kurova reverse jive kkkkkk.
Ko
hanziiko paMozambique apo. I hear Cabo Delgado yanetsa with terrorists who want
to create an Islamic State. Our trigger happy soldiers should be deployed there
to silence the guns. We know our defense forces vanongwarira isu vana Mapombi
tiri unarmed. Matemadanda used to brag kuti our army vanonzi vana mafuranhunzi
so I hope they will go there very quickly and stop the madness of killing
people in such gruesome manner. I am not against any religion but what kind of
religion gives people pleasure of beheading others. Kana Islam ichidaro then
pasi nayo. Why should we kill people like we are killing chickens? I know our
soldiers will not dare go to Mozambique because they will all be killed.
Zvasiyana nekumhanyisa vanhu mumastreet emuHarare and shooting innocent
civilians at 45 degree angles. Chirega iyi tisiye yakadaro because ndingauya
ndikapedzerwa shungu.
I hear
Zanu PF has reactivated its terror machine vana Border Gezi, Green Bomber or
the national youth service. We all know the crimes committed by these
indoctrinated fools. Why reactivating the green bombers now? Are you realizing
that 2023 will not be a walk in the park as you anticipated? Do you need these
green bombers to terrorise our people like what happened in 2008. Let me tell
you something iwe ED neteam rako, we are not afraid of the green bombers. Let
them come and Mapombi will deal with them. Enough is enough. Chamisa I hope you
are with me on this one. Make no mistake about it because these green bombers
will be used in 2023. They will do all the dirty work for ED. I hope the
vanguard will protect us. I would love to see MDC Alliance activating its
vanguard now. Mapombi will come join the vanguard without doubt. We will not be
terrified forever kkkk. That is just anger talking semunhu atambura nenhamo.
But vana veZimbabwe let us not be used mhani imi. What do you benefit kana
uchipisa imba yemumwe weganda dema.
To all
the youth out there I say to you please refuse to be used to protect these old
guys. They want to stay in power and ruin our lives yet they say we are the
future. They want to take us to that stupid Chitepo School of Ideology so that
we are diverted from real issues and be a passive generation. We will speak against
all the ills and no amount of intimidation will ever work. Bring those green
bombers tinopedzerana. Someone whispered in my ear that the green bombers will
be put on pay roll. Where will the money come from when you can't even give our
beloved teachers enough money to lead a basic life? These green bombers are the
majority of ghost workers who have for long been chocking our wage bill. Don't
abuse our youth with this green bomber thing please. I have said enough regai
ndinokanga zvangu maputi for lunch but before I go I am happy that Biti and his
team have bounced back on Parliament. Hanzi muchinda uya anonzi Chikanda does
not have the legal authority to fire anyone kkkk. What a circus. How will Biti
then say the courts have been captured by Zanu PF when he won this challenge?
Zanu PF has scored on this one. They can now argue that their hands are off the
judiciary. Poltical parties must learn to respect the electorate. Regai
ndinokanga zvangu maputi for lunch. Mboko imboko.